We made a start from Beaulieu after breakfast on a balmy and sunny morning. Jill and I spend practically all of our navigating time on deck since neither one of us wanted to miss anything. After Lere, we had to stop before the lock to have our lunch. At the lock, the keeper was selling Sancerre wine, so Skipper bought a few bottles for us. There were some beautiful farmhouses and chateaux along the way. We had a good day of navigation, and arrived at Menetreol sous Sancerre around 5:30 PM. A white-bearded British man whose narrow boat was there helped us tie the boat up at this lovely spot, just below the town of Sancerre. To get hooked up to electricity, we had to knock on the door of the house across the street. The man in charge was a very charming and helpful man who was delighted to accept a beer I offered, but only if he could drink it at home.
Having arrived at the time of our "aperitif," we sat and had some of our Sancerre wine and a few goodies, and after dinner decided to go out and explore this little town. It was dark already, but we could not wait to see the town in daylight. We did just that after a good night sleep, and did find the town incredibly charming and unspoiled. It had a very intimate little square whose houses were incredibly small and quaint. This village had the peculiarity of having lots of beautiful cats. We decided to look for a place to eat by the water's edge, and of the two restaurants chose the one where all the locals seemed to be eating. We ate outside and took quite a long time doing so. After lunch we walked to the town of Sancerre, which is about three Kms. uphill from Menetreol. We took the shortest path, right through the vineyards and got to taste some of the Sauvignon grapes ripe from the vine. That day they were harvesting! On the lower slopes, it was being done by machine, fascinating to watch, and as we approached Sancerre, on the higher slopes, a group of about 12 people were picking them by hand. It was a treat to watch them and talk to them about the process. They were picking Pinot Noir grapes for a winemaker in Sancerre. The head of the group told us about how much he missed the harvest times of a few years back. He and all of his workers could eat together and sleep in tents while the harvest was taking place. Now, he says, all they are interested in is the profit. Tradition has been thrown out the window. He seemed truly upset about it as he talked to us.
The walk through the vineyards was magical, but hard. We could see the Feudal Tower of Sancerre nearby, but had to go around the hill to get to it. The town is gorgeous and the view from the tower is breathtaking, the Valley of the Loire below. If it weren't for the fact that we could see a few cars, one would think to be still in the Middle Ages. To get to the tower, we had to climb over two hundred steps. We walked around the town and inquired about a restaurant where we could celebrate Jill and Skipper's 26th wedding anniversary the next day. A few were recommended, some of them closed the next day, so we opted to go check the Restaurant des Augustins with a panoramic view, reason for which we had to go around the hill, in descent, this time. We were so tired that we called a taxi to drive us back to the port. That night we decided we would continue on the next day and take our chances with a restaurant wherever we would wind up.
We left in the fog through a lovely stretch of the canal, lines of trees on both sides. We tied up for lunch for about 45 minutes, and soon after had to stop and tie the boat to check an electrical problem. The batteries were not being charged. Bill figured it out, we continued on and tied up for the night next to a type of factory in La Chapelle Mountinard, which is a stop in the pilgrimage to Santiago de Compostela. The town of La Charite sur Loire is about 2 Kms--this time on leveled ground--from the canal, and it is on the river. We went into town to check it out, and immediately went into the Church of Notre Dame, which was only second to Cluny in size during the Middle Ages. There were some narrow little streets full of bookstores and beautiful architecture all around. We ate at La Pomme d'Or, as for recommendation of a local. It had local cuisine, hardy and good, and we had a lovely meal with Skip and Jill. We asked for a taxi, but none were to be found, so Madame told us her husband would be happy to drive us back. Well, he turned out to be the chef! We could not believe it, but gracefully accepted. Only in France, will this happen.
The next day the canal stretch from La Chapelle, was not particularly pretty, since there was a lot of industry and cornfields. Just before our stop at Cours les Barres it became beautiful. Just before lunch time, as we were about to approach a lock, a boat called El Majo passed us in the opposite direction. As, always, I said hello, and the lady on board recognized our name and yelled. She said they were Ana Ines and Jacques' friends, the couple who live on The Maritime Alps. They said they would be tying up by the lock so we could talk. As we went into the lock, I talked to the "eclusier" and asked him if we could eat inside the lock. Having explained the situation, he was delighted to comply. The people are Dominique and Nicolas, who knew our friends when both couples had sailboats, and had met on the Caribean over ten years ago. They are now barging in France. They had heard from our friends that we would be traveling on this canal, and to watch out for us. What a small world! After all, in a country that has over 5000 miles of navigble waters, what are the odds? The most incredible thing is that they are going to winter in Briare, same place where Biesbosch will be. From the lock, I could see the bakery, so Jill and I stepped off quickly and brought a lunch of quiches and meat pies, had a good bottle of wine, and got to spend a short, but wonderful time with our new friends, whom we will be seeing in a few weeks back in Briare. We were supposed to moor elsewhere for the night, but Nicolas and Dominique told us about this new place at Cours les Barres. We got there around 3:00 PM, so there was only one other boat. The quay was new, the place was a small park with picnic tables and barbecues set up, and coming down from the City Hall, a small waterfall with fountain, which was lit up at night. I did a couple of loads of Laundry while Bill and our friends played petanque. It was a gorgeous spot and an unforgettable evening.
The next day we left shortly before noon, very excited because we were to cross another beautiful canal bridge, the Pont de Guetin, a stone canal bridge over the Allier. To get to it, we had to do two stepped locks that were 9 Mts. in height. We were the only boat doing it, and had quite a few spectators watching the boat going up and across the bridge. We had been there a few years ago watching boats go through, but did not imagine we would be doing it on our own boat. From there to Nevers, the canal was gorgeous, as was the tow path surfaced with red asphalt and tree lined on both sides. We made a right turn to come into the Port of Nevers, from where the tower of the church of St. Cyr can be seen. The pontoons are brand new, and the Capitanerie is modern and well equipped. It even has a little library with books in several languages. Most people, including us, leave books there in exchange for others. There used to be a lock that went down to the Loire, but it is closed now. Just before its entrance, and at the end of the port, they have built a water park with slides and four or five pools which operate in the summer.
The town of Nevers, home to The Ducs of Nevers has a strong Italian influence through marriage with the Gonzaga family. The Palace is in Renaissance Style with a beautiful square framed with gabled houses and a lovely garden. It is here that the oldest Italian style pottery factory in France is located just next to the city gate, landmark of Nevers. The church of St. Cyr is beautiful as well, especially the earlier Romanesque part of the church with an enormous fresco of Jesus. The stained glass windows, although modern are incredibly colorful, as are the dozens of gargoyles on its exterior.
We ate at a little Italian restaurant our first night, and the next day Bill and Skipper went to get a rental car for He and Jill to go back to Paris. They decided to take us with them so we could all go to Cambrai, they could see our home port, and we could pick up our car. We waited until the next day to go, and left rather early, since we wanted to take them to Auxerre, Chalon and then to Reims. We did just that, and in Reims went to visit the Basilica of St. Remy, on the day of The Saint. The church was looking gorgeous all lit up and they were about to start a very important ceremony. The Taittinger Champagne House is a block away, so we were able to make the English tour of the cellars. The guide was the same girl we had last year, a fabulous one, and Skip and Jill enjoyed it immensely.
We made it to Cambrai by 7:30 PM, found out that our friend Andrew was on Anfra, so Bill went there to talk to him, while I went with Skip and Jill to the Main Square to eat something. We were very warmly welcomed by Therese at La Chope, the little hotel where we stayed when we first went to Cambrai. After breakfast at La Chope, we went to the port, said hello to Gerard and Claudine at the Cafe de la Marine and picked up our mail. They invited us to stay with them for the night. We said good bye to Skip and Jill, and were very sad to see them drive away. Bill needed to get some parts for the central heating system, so wet went around different stores. At Gerard and Claudine's we had a lovely beef fondue and some fabulous wine from their cellar. After a very good night sleep, Bill was able to help Claudine install something for her dryer and decided we must go to Tournai, Belgium, where he could find the 15 mm. pipe he needed. The drive is only 45 minutes, and very successful. He found all he needed, had lunch in a lovely restaurant on the Main Square, bought some Belgian chocolate for our friends from The Petit Chef with whom we would be having dinner and spending the night. The whole family was there, including their son Matthieu from whom we had ordered the blinds for the wheelhouse. Dominique had prepared a most delicious paella, great dessert and good wines. We had a great time with our dear friends, spent the night at their house, and said a very emotional good bye. In the morning, on our way out, we went to see our friends Bernard and Nicole, who had just returned from their vacation in the South. It was close to noon, so they insisted we stay for lunch. Nicole prepared a lovely salad nicoise in her very beautiful newly remodeled kitchen. They had brought us a beautiful bottle of wine, thinking of us, because of its label, Les Mariniers. They are so thoughtful and special, our friends in Cambrai. We were very sad to say good bye, but also certain that we will be going back as often as we can.
A SURPRISE VISIT
On our way back to Nevers, we got a call from our friend Dale, from California, who was in Denmark on a business trip, had had a meeting canceled in Paris, and was coming to see us. We were delighted with the news, so Friday, we picked him up at the train station in Nevers. He had come from Amsterdam, and was exhausted. We stayed on the boat, had some good wine and a lovely meal and a great evening. The next day we took Dale to see the city and its sights. In the afternoon we took a ride out to the Pot Canal, the round lock nearby, the lovely town of Apremont, a truly gorgeous little village on the banks of the river, and to see the confluence of The Loire and The Allier rivers. On Sunday, after a leisurely breakfast, we drove through the countryside of Burgundy on a clear and sunny day, to take Dale to Lyon from where he would be flying that evening to Lisbon. We saw some gorgeous chateaux, farms and lovely towns, and of course, some vineyards. We really enjoyed Dale's visit and hope he will bring his wife, Gail next year.
We will be in Nevers a few more days, since Bill is trying to solve the problem with the regulator. On Thursday I will be taking the train to Paris, where I will be meeting my friend Linda, a colleague from school who is here on vacation. On the 19th, our friends Stella and Justo will be arriving from Miami, so we will be cruising with them for a few days before we return to Briare.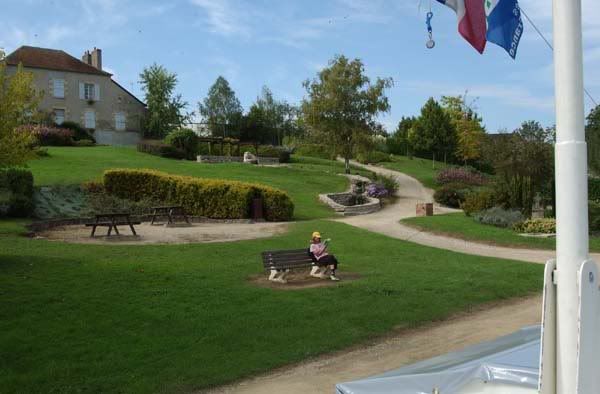 Mooring at Cours les Barres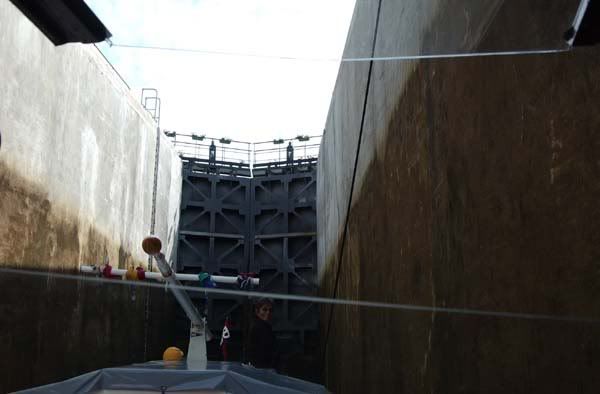 Intimidating luck of Guetin
Church of St. Cyr, Nevers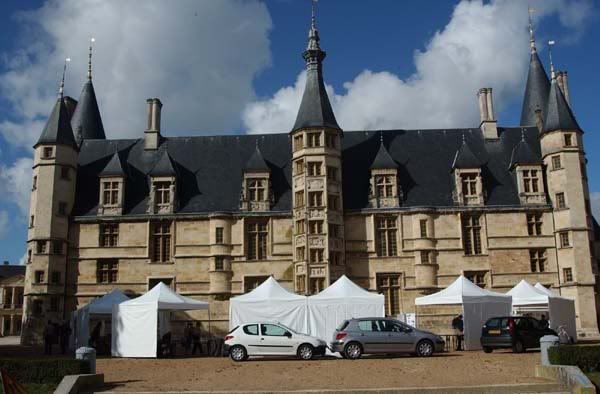 Palace of the Ducs of Nevers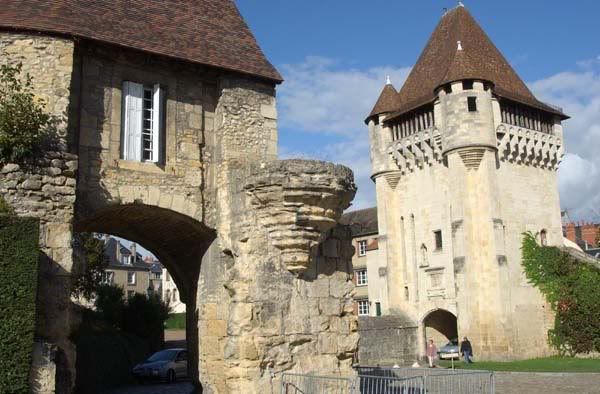 La porte de Creux, Nevers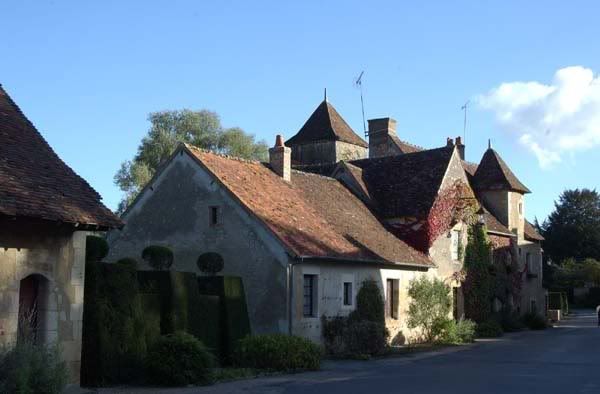 Beautiful Apremont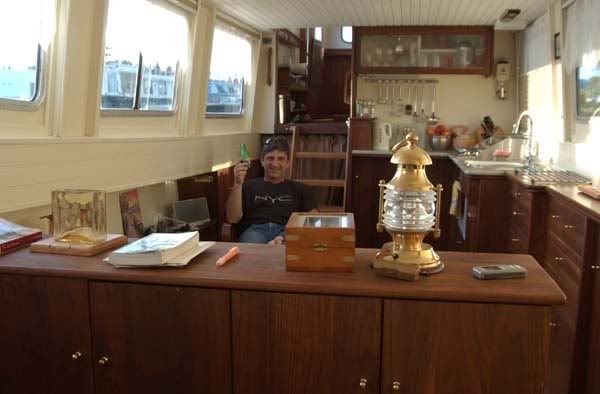 Dale's Miller time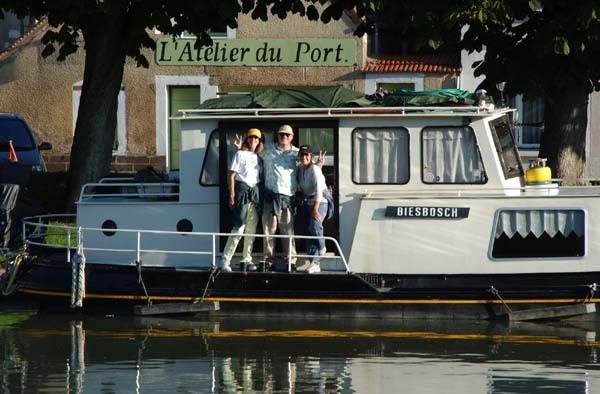 Skip and Jill arrive in Briare
The Port of Briare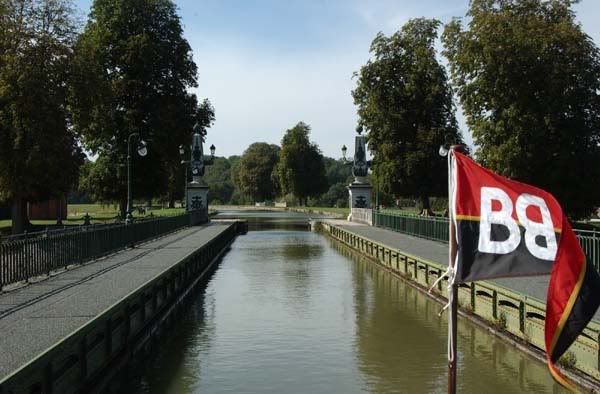 Biesbosch's beautiful flag over Bridge Canal de Briare
Village of Mentereol sous Sancerre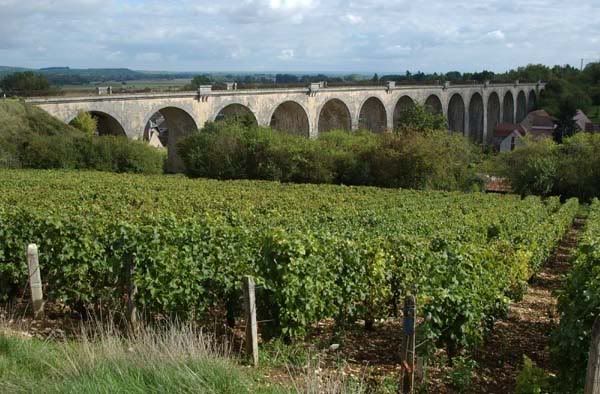 Arched viaduct over Mentereol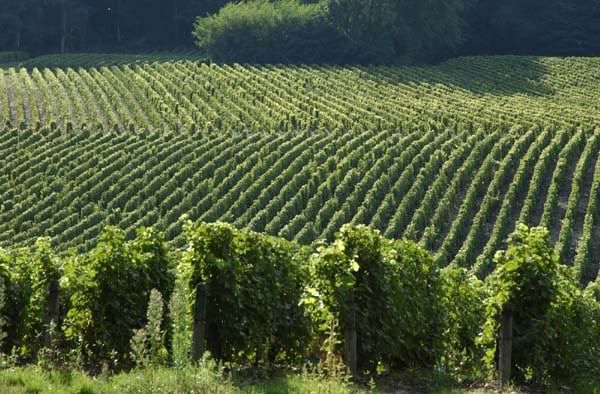 The vineyard of Sancerre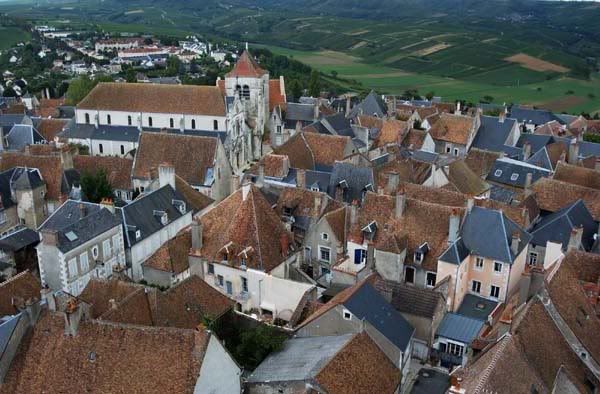 View of Sancerre from Feudal tower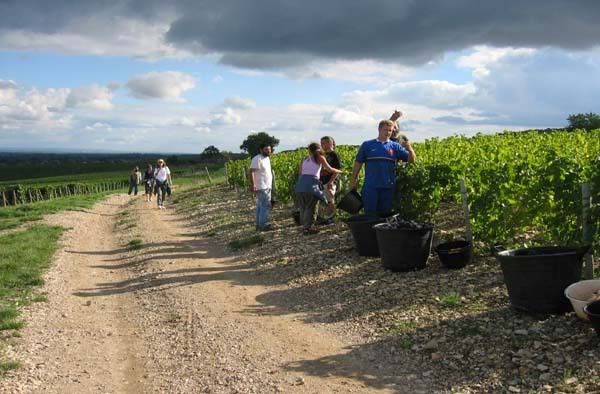 Grape pickers, Sancerre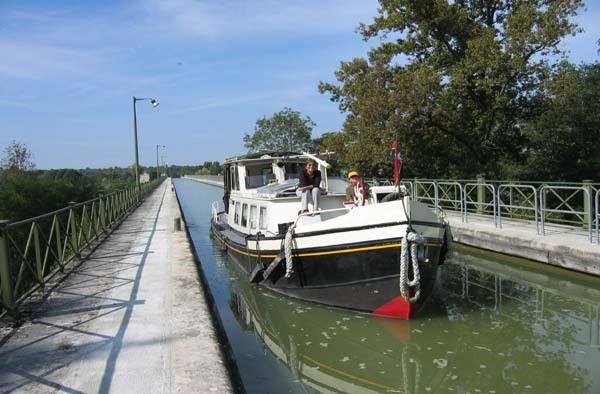 Syl and Jill enjoying the ride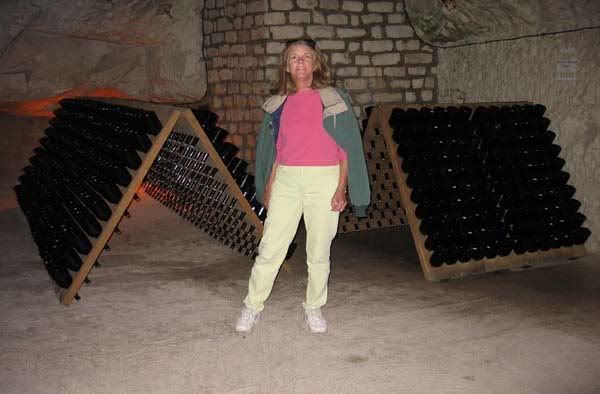 Jill at Taittinger's cellars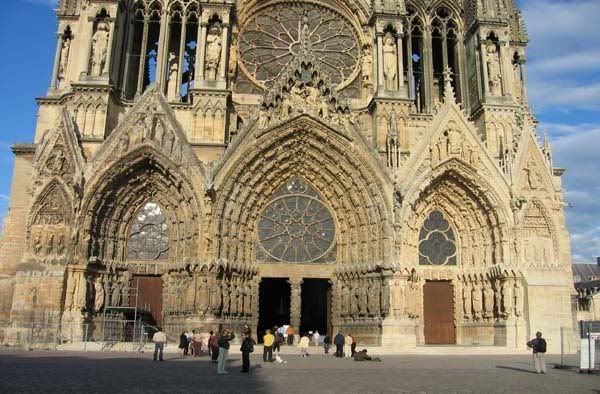 Cathedral, Reims
The captain at his best