Due to high winds, which would make navigation difficult, we decided to take the car and tour the area. We went to see the beautiful town of Apremont, the Pont Canal de Guetin, and the round lock nearby. We wanted to take Justo and Stella to a well known restaurant, that specializes in Charolais meat, but to our dismay, it was closed. We were getting very hungry, and luckily we found an open restaurant called La Grenouille, which from the front did not look like much, but which turned out to be rather cozy and good. In the afternoon we drove to Bourges, one of my favorite cities in the center of France. We visited the cathedral which has some of the prettiest stained glass windows, as well as portals and doors. We walked around the old town, which was home to Georges Sands. The half-timbered houses are beautifully preserved, many of them with carved wooden columns and beautiful windows.
We returned to the boat, had our usual wine, and of course, a wonderfully prepared dinner by Justo.
The next day ,cast off around 10:00 AM direction Nevers. It was a balmy day, a beautiful one for navigation. We tied up the boat to the side of the canal, and this time Stella and I prepared a simple lunch for all of us. We planned to go out to dinner in Nevers, so we did not want to eat too much. We arrived at the Port de la Jonction, moored in front of the Capitainerie, and after a little cocktail, walked up to the phone booth to make a few phone calls. By the time we were done with our calls, it had gotten too dark to walk across the river to go to town, so we decided to try the Restaurant de la Marine across from the canal. While Bill and I were in Nevers, we noticed that it was always crowded, which is always a good sign. We walked to it, and a lovely young lady showed us to our table upstairs. The place has been redone in warm colors, but the house is old with exposed wooden beams, very charming. We had a great dinner of mussels in a cream fraiche sauce, and a sea food casserole with saffron. The wine was great, and a lovely evening was had by all.
Before ten in the morning, we were on route to Marseilles-les- Aubigny, a 26 Km. run from Nevers. It was a great day of cruising through countryside, farms and chateaux. Since the locks close between 12:00 and 1:00 PM, we decided to stop just before one of the locks to have lunch. However, the lock keeper took his time and did not show up until 2:30 PM.
We had some shrimp, so Justo grilled it on deck, along with some fresh endives. So we had our lovely lunch accompanied by a great Pouilly Fume--this is the region -- and enjoyed another gourmet treat made by Justo. Just as we were finishing up, the lock keeper showed, we passed the lock, and continued on our way, going by the lovely stop at Cours-les-Barres, where we had spent a night with Skip and Jill, and then the lock at Beffes, where we had met our friends Dominique and Nicolas on the way to Decize. We arrived in Marseilles around 5:00 PM, tied up the boat to a pontoon at the end of the port, in front of the park. This town is very interesting, since it has quite a few commercial barges tied up, a dry dock, and also a port for pleasure barges, right in the middle of town. As soon as we arrived we were out exploring the tiny village, which had a grocery store, a bakery, a beauty salon and a post office. At the City hall there was an information center. Stella and I inquired about an open market, and the lady told us that they did have one, but only one vendor came, a cheese maker! Stella and I went to the bakery, where the owner, and odd looking lady, sold us some pastry which we bought the boys for dessert. We could not figure out if she looked like a witch on purpose, or if she was dressed for Halloween. This was only Oct. 26. Our dinner consisted of meats of all sorts cooked on a hot stone, accompanied by different sauces and a lovely salad. Needless to say, wines of the region were consumed that night.
The next day, the most gorgeous day of navigation, it was warm, so after breakfast, and under a sunny sky, we left for Menetreol sous Sancerre, from where Stella and Justo would be leaving the following day. This day was just like summer, so when we stopped for lunch, Stella surprised us by setting up a picnic on the side of the canal at Herry, in front of a beautiful chatelet with its own pond. She decorated an improvised table with flowers and autumn leaves, while Justo and I prepared a delicious chicken Caesar's salad. We sat on the grass and had the most beautiful lunch, accompanied by a chilled Blanc de Blancs.
Justo and Stella wanted to take us out to dinner in Sancerre, which is quite a hike up the hill from Menetreol, so as soon as we tied up the boat around 4:00 PM, I called a taxi and we all got ready to go see the town. The taxi driver, Myriam, was a very nice lady, whom we contracted to pick us up after dinner, and to take Justo and Stella to Cosne the next day so they could take the train to Paris. As we arrived in Sancerre, we walked around the edge of the hill to see the Valley below, a breathtaking view from above. Stella and I did some shopping and then we went to Alphonse Mellot, a fabulous winemaker of Sacerre wines. We tasted quite a few wines and bought some as well. Fernanda, the girl who took care of us, was Portuguese, so she and Justo hit it off right away. We spent quite some time there, and then went to Joseph Mellot's restaurant to have a drink before dinner. It is quite amusing for us Americans to ask for a drink in France, even at a bar, and be told they have no ice. It has happened several times. The one drink the French drink with ice is Pastis. The guys ordered one, Stella and I a Whiskey, and somehow, the ice appeared.
After our drinks, we walked to the Restaurant de la Tour, the best in town, and we were immediately taken to our table by the Maitre D. The decor was modern, warm and elegant, and the dinner was fantastic. They gave us a "mis en bouche",an "interlude" and a pre-dessert. Everything we ate was superb and beautifully presented, a true delight for the senses. The second bottle of wine we ordered was corked, so they very graciously gave us another. We arrived at 7:30 and left at 10:30 PM. Myriam picked us up and back to the boat.
The next morning, after breakfast, Justo and Stella got their luggage ready and waited for Myriam to pick them up promptly at 10:15 AM. As always, it was so hard for me to say good bye. We had such a good time with them and they were such wonderful guests, that we hated to see them go. Fortunately we shall see each other again in Florida in January. After their departure, I moped about for a while and then spent the rest of the morning cleaning around. In the afternoon, Bill and I took a long walk along the canal to St. Satur and back, had a quiet dinner, and really felt our dear friends' absence.
BACK TO BRIARE
We spent another night in Menetreol, so the following morning, after breakfast, we took a walk across the canal to the Loire. It was balmy, almost hot, a great time for a hike. In the afternoon, I made a couple of phone calls, and then, in the evening, it started to rain. Bill worked some more on the central heating. On the 29th, we set off on a foggy morning, not cold, and between locks, I did a bit of step dancing. At the lock where we had bought the Sancerre wines before, we waited over an hour for the lock keeper to show up. We tied up alongside a boat already waiting, and had our lunch. While in the lock, we bought some more wine, and the lock keeper informed us that he had 4 locks to work that day. It was Sunday, and I noticed when he arrived that he was already a bit tipsy. We decided to spend the night in Belleville, a gorgeous little town with a beautiful mooring, but after we tied up, we realized that everything was closed, and we were not going to get electricity for the night. We continued on to Beaulieu, a stop we had made before, but noticed the same lock keeper was not there. We tied the boat up, I walked to the lock, and saw that he had left his cell phone on the desk. There was a phone number to call in case of emergency, and as I dialed, the phone on the desk was the one I was calling. We were rather frustrated, since he had made us wait so long at lunch time.
Down from the lock there was a beautiful house with a rear terrace, where a couple of young girls were smoking a cigarette. I asked them if they knew when the lock keeper was going to arrive--first day of day light savings--and the locks would be closing within the hour. They said they would ask their grandfather. He came out of the house, walked over to the boat and told us the lock keeper would eventually show up. When we told him we were Americans, he said, "Je n'aime pas les Americains, mais venez boire un verre avec nous." I did not know what to say! This guy does not like Americans, but is inviting us to his house to have a drink? He would not hear "No" for an answer, so we complied. When we went in, the whole family was there, daughters, sons in law, grand daughters, wife, etc. The house, 150 years old, had been redone beautifully, under floor heating, original wooden beams, great fireplace, the works.
They are all very classy Parisians, who have this as their country retreat. Each daughter has a part of the house, and Grandpa, who is 77 years old, and looks 65, seems to be the one who calls the shots. What a character! By the time we left, we had had two bottles of wine, and knew everything about one another. We invited them over to see Biesbosch, and they loved it. They had never been inside a boat before. Needles to say, we stayed at that spot for the night and would have not traded this beautiful experience for all the electricity in the world. They told us to come by at Christmas time with my family, because they will be there for the holidays. This expierence, as many others, negates the stereotypes of Parisians.
That night, the lock keeper's supervisor called me-- my number was registered in his telephone-- to let me know that someone would be at the lock whenever we wanted the next morning. At 9:30 someone was there, soon after Bill had fixed the electrical problem. To this day, 5 days later, it is still working. The run to Briare was gorgeous, and the town greeted us with bright sunshine, as did our friends Nicolas and Dominique.. We were showed to our wintering spot, at the end of the port basin, in front of a small restaurant, by the "Rialto" bridge, in front of the tree lined old canal, a most beautiful view. We feel very lucky to have found such a great town for our winter mooring. Our friends Dominique and Nicolas will be here, as well as an Irish and English couple with whom we had tea the other day. Yesterday, November 1, was the first cold day we have had. We went to St. Leger with Nicolas and Dominique to pick up our car. It is so great to have it here to continue exploring this beautiful region. In the morning, we went for a long walk to the river and found a most gorgeous beach, where we want to go for a picnic one of this days. The river there is like a mirror, and I cannot wait to go there again. Today it is sunny and cold, 4 degrees C. As I write, Bill is working on the central heating system.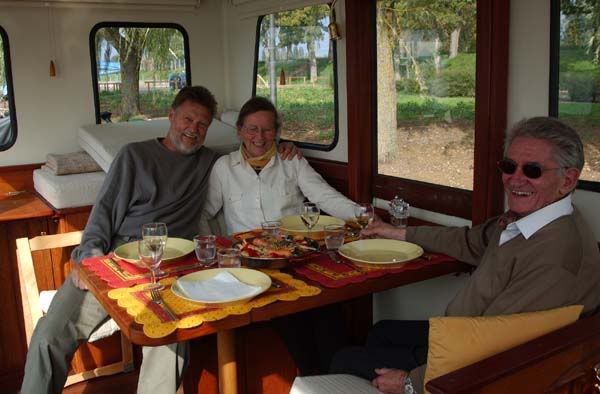 Paella with Tristan and Paulette, Nevers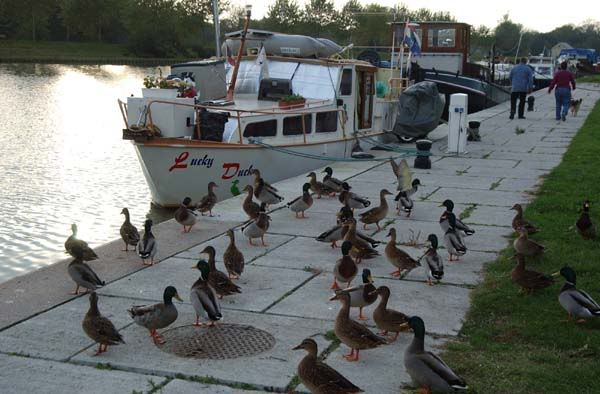 St. Leger, dukcs and Lucky Duck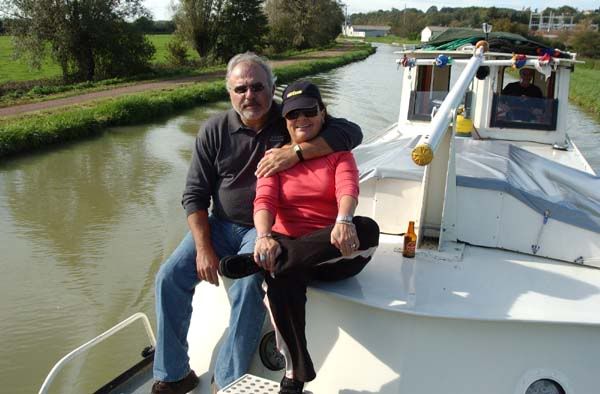 Justo and Stella on deck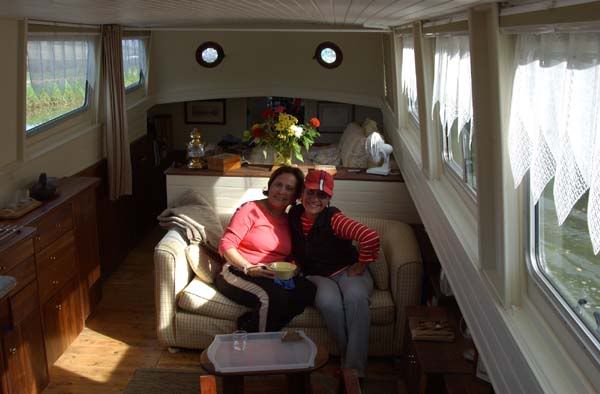 Stella and Sylvia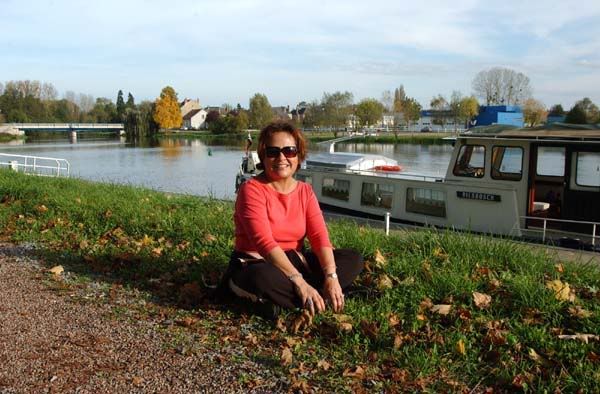 Stella, Cercy-la-Tour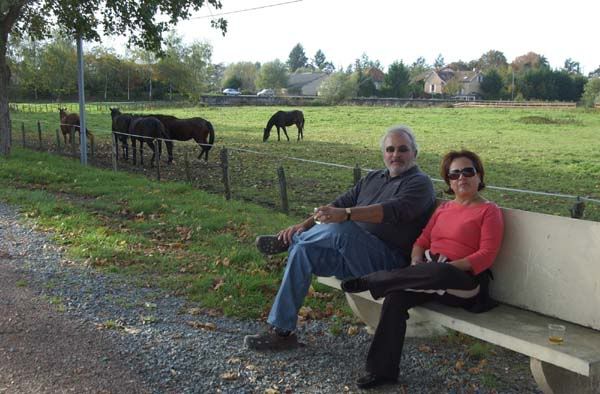 Cercy-la-Tour with horses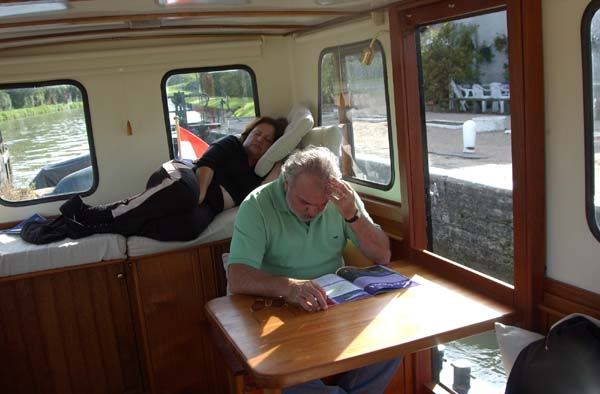 Relaxing time for The Azpiazus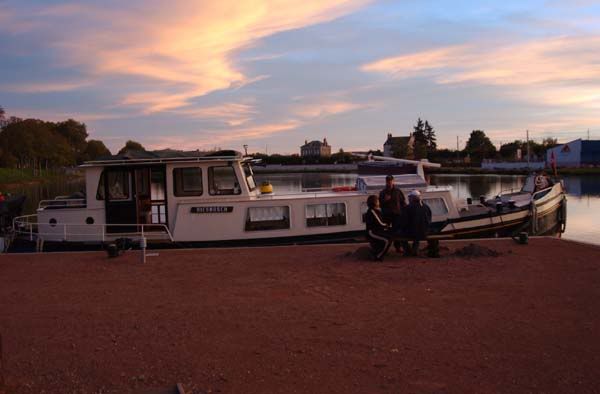 Nevers, sunset cocktail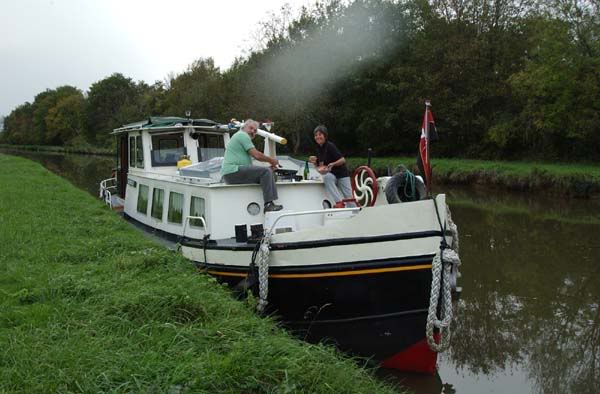 Grilled shrimp and endives on deck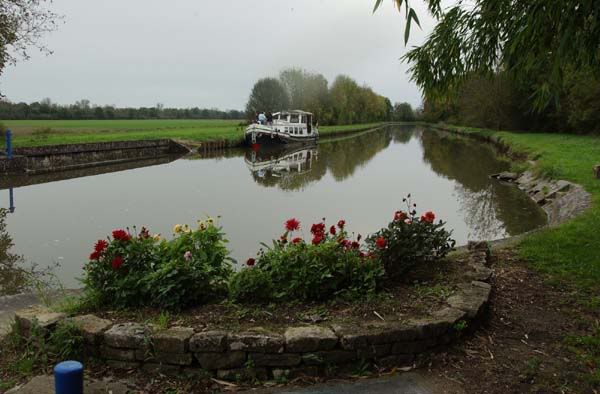 Waiting for lock keeper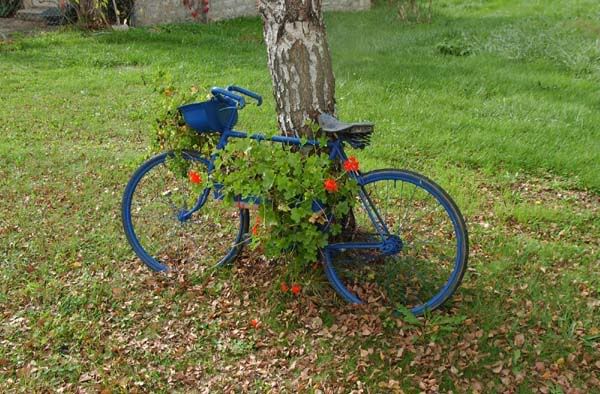 A beautiful idea at lock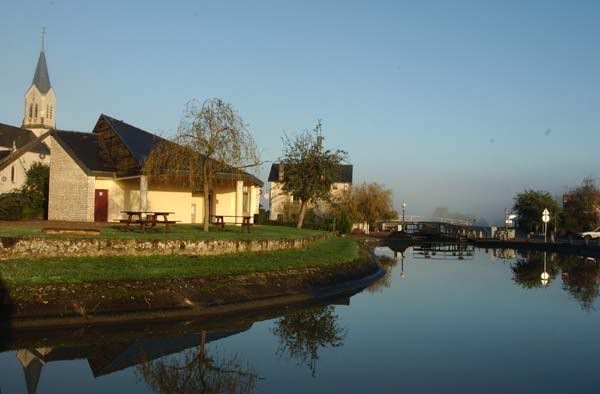 Mooring at Marseilles-les-Aubigny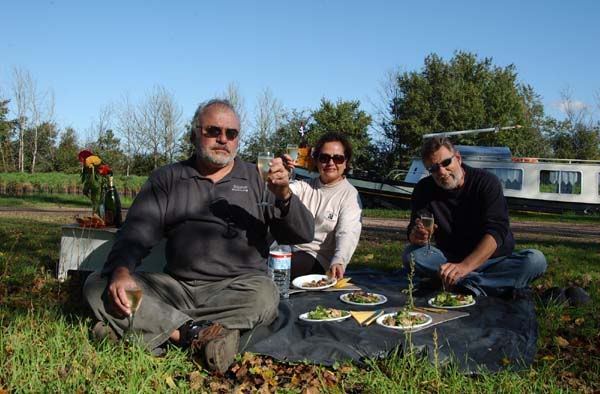 Picnic with champagne at Herry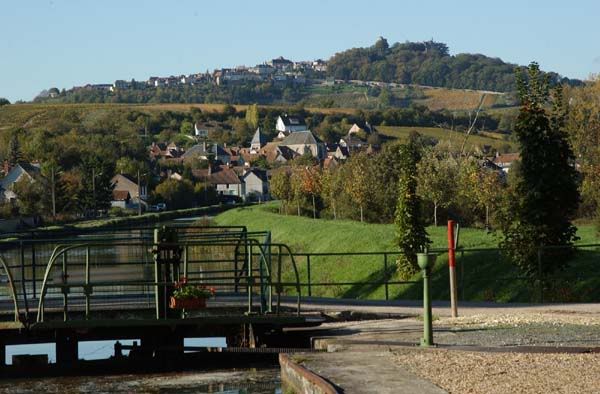 Menetreol and Sancerre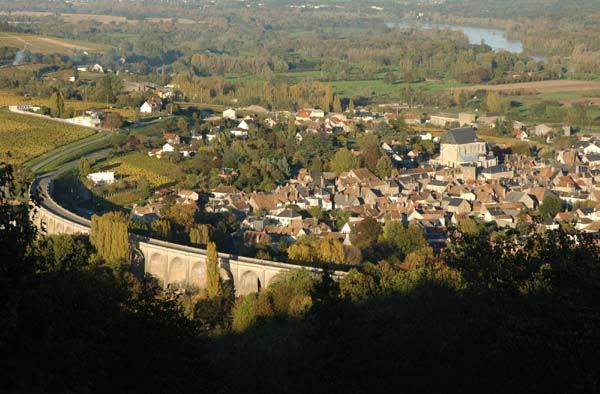 View of St. Satur and The Loire from Sancerre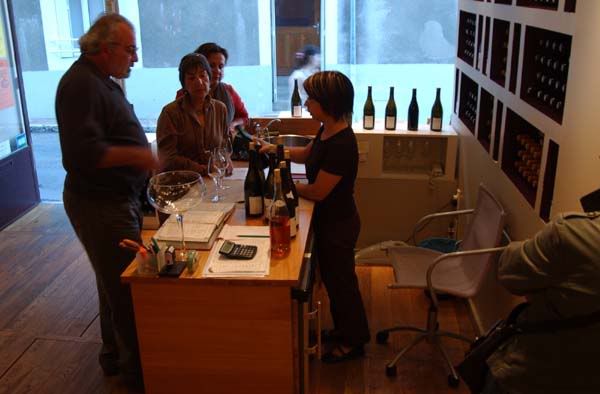 Wine tasting at Sancerre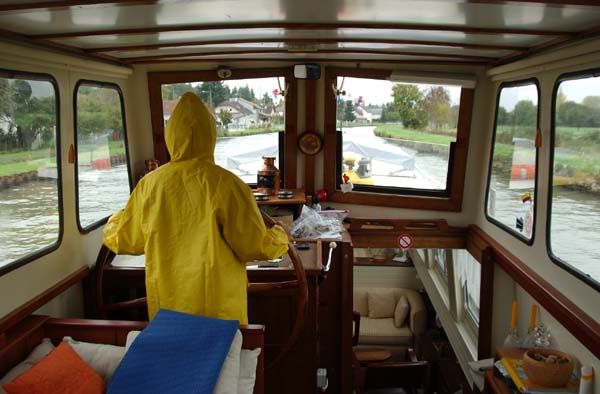 Sylvia at the helm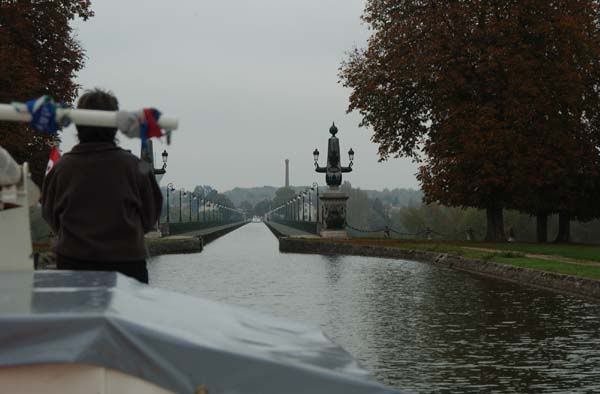 Entering the Pont Canal de Briare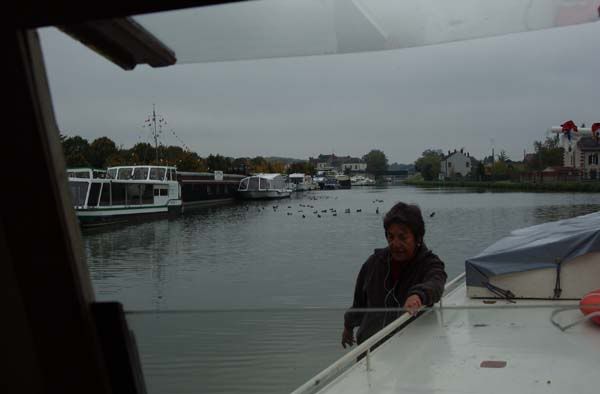 Port de Commerce, Briare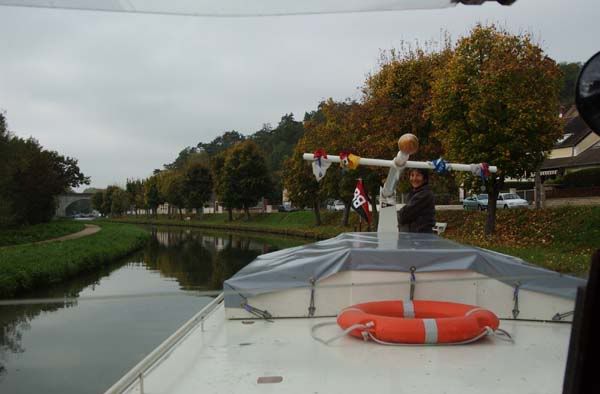 Coming into Briare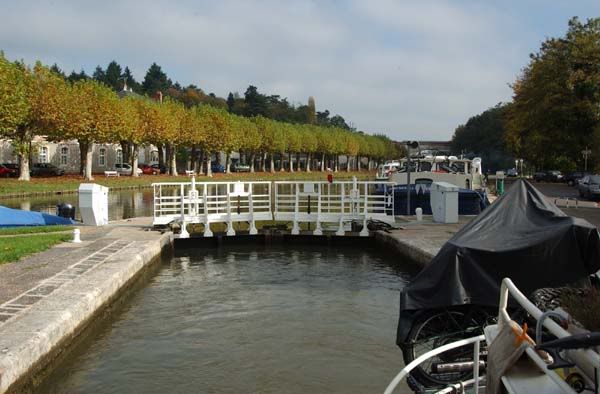 Last lock!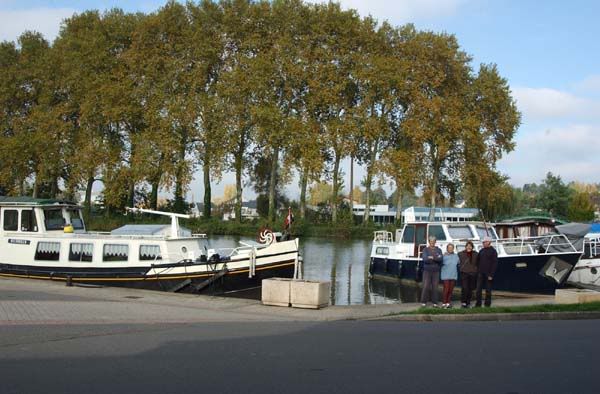 Friends welcome us back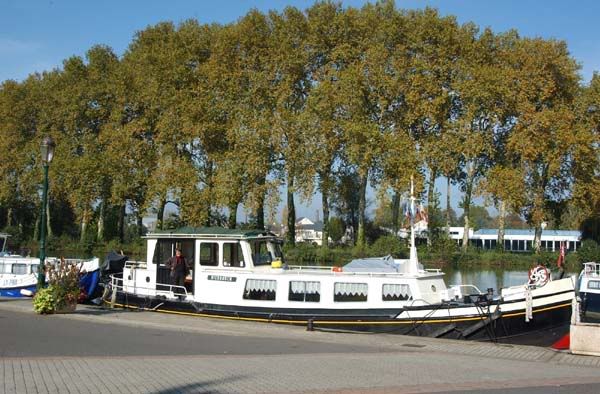 At home for the winter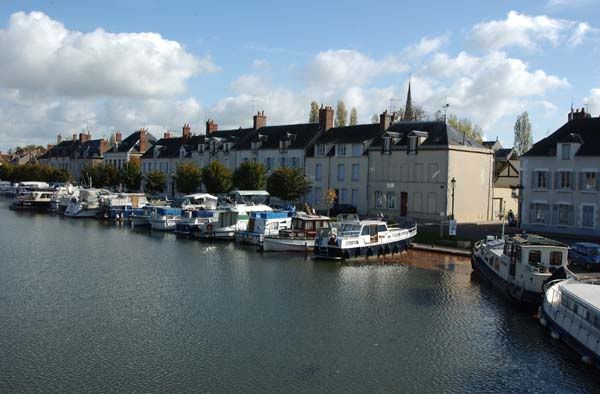 Port de Plaisance, Briare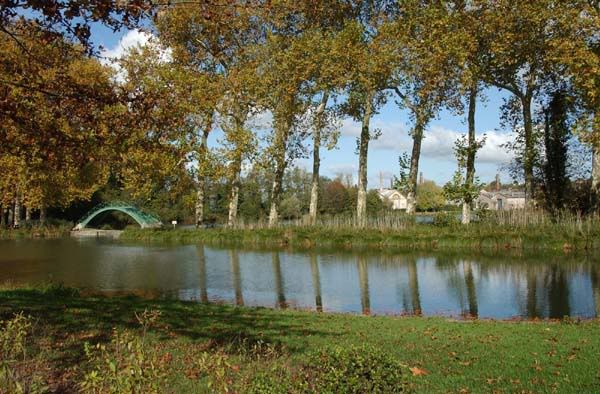 Briare, view from stern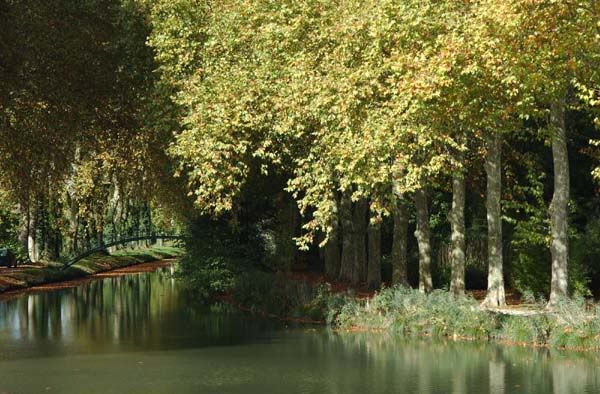 The old Canal de Briare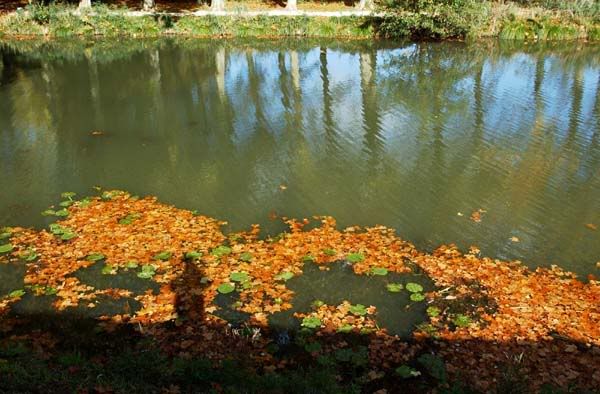 Falling leaves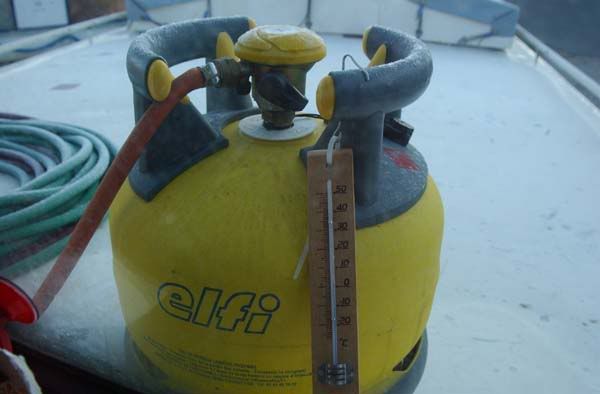 Temperature on Nov 1, at 9;00 am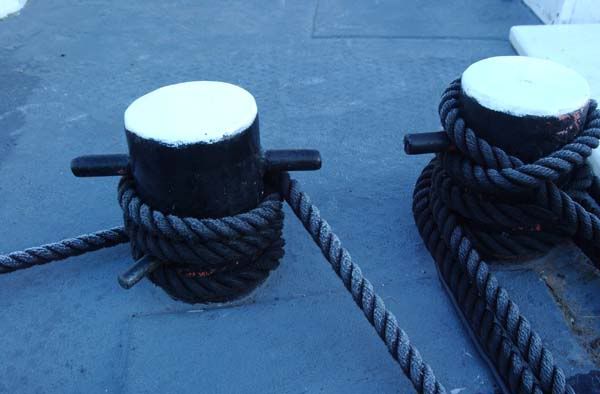 Frost on ropes