I drizzled the morning we left for about two hours, but then it cleared up beautifully. This part of the canal is very pretty, the locks are all from 1885, many of them have beautiful and elaborate gardens. At one of them there is a beautiful pipe organ, a giant music box, that as we entered the lock started to play a happy tune. Imagine, a serenade in the middle of the day! The lock keeper told us that the great grandson of the man who built this organ kept the business and repairs and even builds new ones. As we locked down he played 3 tunes for us.
Our destination was Montargis, but being that there was going to be a jazz concert on the weekend, we thought we might not find a mooring at the Port de Plaisance. Ronnie and Nigel had been there for a couple of days and sent us a message letting us know there was no place to tie up. As we approached the port, Nigel signaled us to tie onto his boat, we did just that without asking if it could be done.
After we secured the boat, I changed and walked downtown to the bank where my new credit card had arrived. Montargis is the city where last year our friends Debbie and Richard left from. It is called "The French Venice" for its many canals. I did a bit of window shopping, checked out some of the good stores, and as it started to rain I got back to the boat to find Bill and the port captain talking about the fact that it was not permitted to tie up onto another boat for safety reasons. At that hour the canal is closed, so there is no other traffic at all. We thought that argument was weak. He called his boss, who came down to the port and, rather than argue, as his work day was coming to an end, decided to look the other way, to our delight.
Nigel and Ronnie had seen an Indian restaurant they wanted to try, so we all changed, walked to it, about 7 minute walk from our boat, and had a very good meal. Next day we left ahead of Ronnie and Nigel, but soon after the 2 locks in town and just after the commercial port, Bill spotted a Bricorama by the railroad. This is a store much like a Home Depot. We tied up Biesbosch and within the hour Bill was back with a box full of things for the boat. Nigel and Ronnie went by and stayed ahead of us until we got to the Seine.
We had thought we would tie up at the port in Moret sur Loing, the town where Alfred Sisley lived and died, and which we so enjoyed last year. But the moorings were all taken, so we continued on the Loing which flows into the Seine at St. Mammes. We tied up onto a pontoon in the Port de Plaisance, right on the river, along with Ronnie and Nigel, and have been here for 5 days. Sunday they set up a market along the quay, very picturesque and very good. I even found mums for my flower pots, which I planted right away.
We had heard of a restaurant in Moret that belonged to a Colombian lady and a French man, but did not even know the name. We ventured to go by foot along the river to see if anyone knew of it. In town we inquired in 3 different restaurants from one end of the town to the other. Our friends were able to see the town, until finally the owner of the Cheval Noir told us it was beyond the other side across from the river, about ten minutes away. The place looked beautiful, smelled delicious and we were hungry, but were turned away. No reservations, no place. Sunday lunch is very popular with the French and a reservation is a must. As we got there a party of 7 had been turned away although they had come from Paris. I joked about having come from Colombia, but it did not work. Luckily, nearby there is a very good Chinese restaurant where we had eaten last year and we had a great meal and a good afternoon after all.
On the way back to St. Mammes, we stopped to see Ronnie and Nigel's friends aboard Sterna, who were moored on the side of the canal. It had started to rain, and the guys wanted to see the start of the US Grand Prix. Mike and Pippa, got out the wines and goodies, and we wound up staying until about 8:30 PM
The next day I did laundry, some painting, Bill did work on his dashboard, so we felt very good and productive. Tuesday morning I called Le Relais de Pont-Loup, the restaurant in question, made a proper reservation and after a long day's work, we walked to Moret. The hostess recognized me from Sunday and remarked that I had persevered. "You will not be disappointed," she said.
The restaurant is an old and elegant house with an enormous garden, very tastefully decorated. We later found out that it was the owner's grandfather's house. He, the owner is quite a character, interesting and very humorous. His wife is the chef, so we did not get to meet her until the end of the meal. The food was fantastic, as were the wines we chose. Mme. Moncada sent us some champagne--on the house--to have with our dessert. She came and chatted with us for a while, and it turned out that she is from Bogota and knows my brother Diego and his family because they go to Providencia Island when they go to Colombia. What a small world!
Our friends Ronnie and Nigel left yesterday and will continue to travel until August. The will be exploring the Champagne region. As for us, we will stay here tonight and tomorrow we will continue upstream on the Seine to the confluence of the Yonne in the direction of Auxerre. We shall see what new experiences this new river will bring us. We cannot wait.
Port at St. Mammes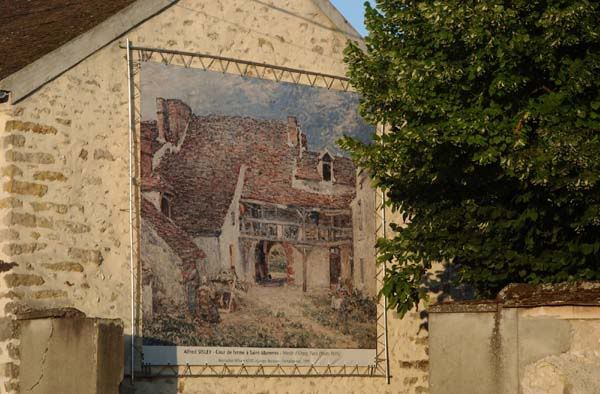 Sisley painting of St. Mammes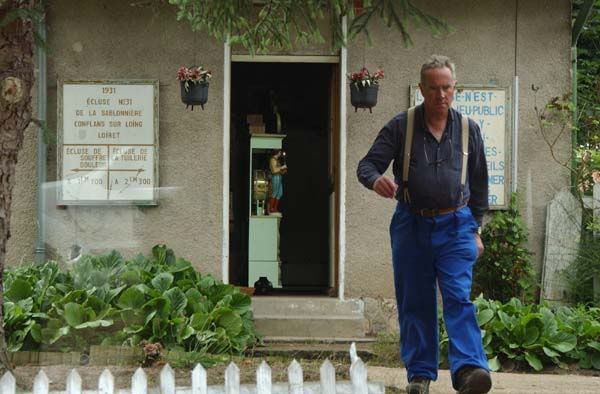 Organist lock keeper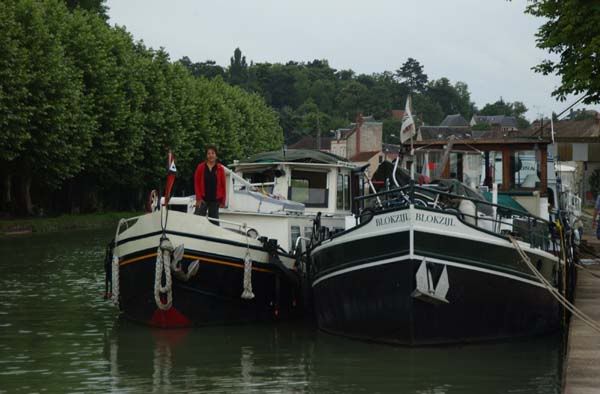 Blokzjil and Biesbosch at Montargis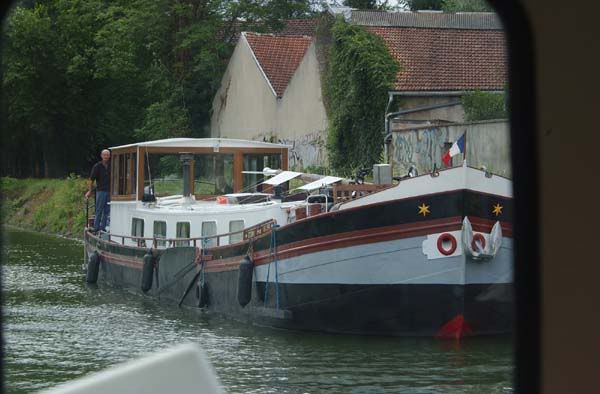 Mike and Pippa on Sterna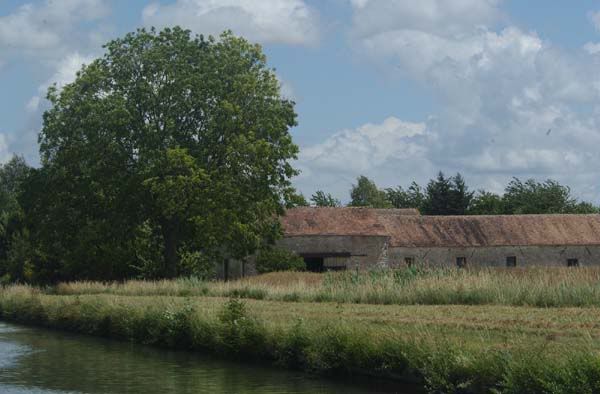 Farm near Nemours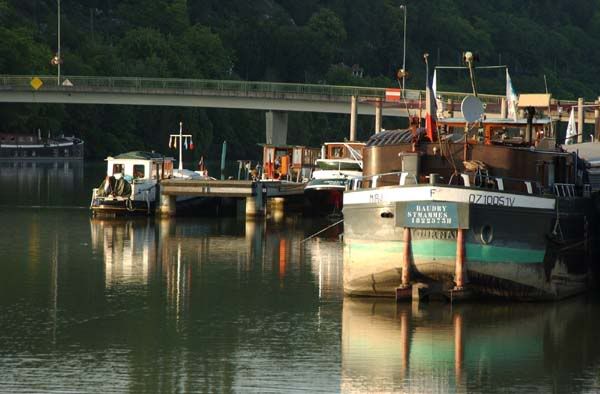 Biesbosch with big barges in St. Mammes