We left Carcassone on June 2 after 3 weeks from our arrival. It took us a few days to adjust to the time change, but we were soon getting organized and doing some work on the boat. We spent time with our friends Michel and Claudine, as well as with the two couples left in the port after the winter, who were also preparing to start cruising. We savored Carcassonne and all of its beauty--could never get enough--before we sailed away.
We set off on a beautiful spring day, west bound and very excited to be moving again. The canal, west of Carcassone has less hiring boat bases, so even during the busiest months of the year--July and August- one does not encounter many boats on the way. The canal, majestic, with its plain trees on both banks invited us to enjoy it and share in its beauty. As we went along it got prettier and prettier. Beautiful fields of colza flowers, young vineyards shining in the sun and old stone farms in all their ochre beauty, make this area a very special one. Our first night was spent after Bram before a lock. Did not like the looks of the port, so we tied up along the canal with the birds and the ducks. Great place to be. This is the true feeling of freedom. We stay where we like, as long as we like. We continued on to Castelnaudary, a beautiful hilltop town with a large basin built to feed the multiple staircase locks that lead up to it. A small island was also built to protect the working barges from the strong Tramontane winds that hit this area. We were lucky enough to find our friends Lucy and Malcolm from Body and Soul and their friends George and Sue at the dry dock in the basin. They were cleaning the bottoms of their boats and doing a lot of paint. They offered to give us electricity, so we were able to tie at the basin with the most beautiful view of the city. We stayed in this lovely town 13 days. We loved the view and the changing light, the walks into town, the windmill that overlooks the valley and the Presidial built by Catherine de Medicis that, like many other buildings, give the town a very Italian look. Market day is fantastic, its stalls placed along the streets to the square at the top. Everything from shoes to clothes, meats, nuts, cheeses, fruits and vegetables could be found. The strawberries from the region, a beautiful variety, are the best I have ever had. Lucy and I had decided to make a dinner together, so she took care of the appetizers and I did the main dish. Her friends from England were coming, so with George and Susan and all of us, there were 8 altogether.
They set up their table inside the dry dock, beautifully decorated with candles, under a clear sky. We drank a Cava that was delicious, and accompanied it with Manchego cheese and jamon serrano. A most delicious invention was soon brought out by Lucy: grilled blood sausage stuffed with prunes. What flavor and texture!. Lucy, as I had mentioned before is an outstanding cook. The main dish was a seafood paella, of which I made two. One I cooked in the kitchen and the other one on our camping stove. It turned out delicious. There wasn't anything left. The wines where lovely, as was the dessert. Who said you could not have fun while in dry dock? We sure did.
While in Castelnaudary, we did a lot of walking and biking. One day we took a 26 Km ride along the canal. It turned out to be on the day of a foot race from Toulouse to Beziers, about 200 kms. to be done in two days. The guys leading the race passed us as they ran by, as if we were still on our bikes. We were told they were averaging 18 km per hour! Upon our return to port we met our friends Robin and Millie on Taboe, who had been there for few days. We had drinks with them and a few days later a great dinner on their boat. They told me about a little Internet Cafe in town where you could have WIFI connection as long as you consumed something. Well, this turned out to be a fabulous little place, CAFE.COM The owners, Michel and Caroline have made it so cozy and lovely. They sell exotic teas, great coffees and a chocolate cake made by Michel that keeps you going there. I spent time in the cafe almost every day and made friends with them. The day I left, Michel gave me two bottles of very special wine. He told me wine making is his hobby and he and his father make a few bottles every year. They have no label, and are for family consumption. The wines are from 2003 and 2006. Caroline told me that she was very surprised that he had offered to give the wines, since he does not ever do that. I am lucky, I guess, and delighted to have met such wonderful people.
On May 10, Mother's Day, we went to a restaurant recommended by Caroline, The Mistral. They specialize in seafood. I had the best baby squid I have ever had in my life, and the monk fish in a light mint sauce was unbelievable. It was a great afternoon, after which we went for a long walk and took pictures of the town. A couple of days before we left, Bill helped Malcolm install a new water heater in his boat while Lucy wast in England and by the time we left, both boats in dry dock were looking like new and ready to start floating again. We said goodbye to our friends.
The ride from Castelnaudary to the highest point of the canal--the parting of the waters--is the prettiest. From every point we could see the snow covered Pyrenees in the distance. At one of the locks, the lock keeper was very curious to know why we had so many flags on our boat. He obviously recognized the American and the Colombian flags, but was curious about the California flag, which he did not know. We talked for a while and before we left the boat, he came over with the most beautiful apple pie. As it turns out, he is the mysterious "pie man" who apparently sporadically offers his pies to a select few boaters, us being lucky ones. The pie is made from Viviers flour, a local mill and apples from his backyard. Bill, who is an apple pie lover, considers this pie to be the best, ever. As a result, Mr. "pie man" and I are now corresponding via email land exchanging photos. He is a pretty good photographer as well as a great baker.
At La Segala, where we stopped for a few hours while we went to lunch, we met a couple of English people whom I recognized as "pilgrims". This area is part of the Camino de Compostela, so one sees a lot of them with their backpacks marked with the scallop shell, which identifies them as such. They were a great source of information for me, as they answered all of my questions and enlightened me about this quest on which I am about to embark . The walk to Santiago de Compostela from Leon in the month of July.
The local dish of the region, Cassoulet, is a very rich white bean and duck confit, pork and Toulouse sausage. The best, according to those who know is served at Hostellerie Etienne in the town of La Bastide D'anjou, a couple of km from La Segala. Bill and I walked to this lovely town to eat this amazing dish. The restaurant has a large open dining room as well as patio. It is a bustling restaurant where families come to savour this wonderful concoction. Although we had eaten it before, this Cassoulet was unique in that despite its very heavy ingredients it was a light dish. Eaten with a green salad and accompanied with a local red wine, the whole thing was the perfect combination, and neither of us felt bloated of full after the meal. We walked back to Biesbosch and continued up to the canal Summit at Naurouze. Here, Riquet, the engineer, who in the XVI C. built this canal, constructed an octagonal basin which he filled with streams that came from the Montagne Noir. The basin was built to feed the canal at the parting of the waters, but it silted up in a few years, and a new canal was built to bypass it. We tied the boat at one of the most beautiful spots in the Whole Canal du Midi, just before the Lock of Ocean in a park of magnificent cedar and plane trees. There is an old mill, which is now a hotel, and the obelisk built to Riquet is also nearby. We spent a couple of days exploring this part of the canal, both on foot and by bicycle, before starting our descent.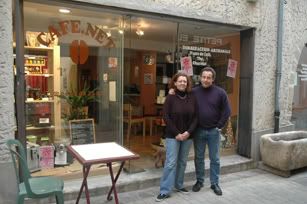 Michel and Caroline at Cafe.Net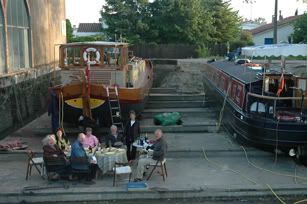 Paella night in dry dock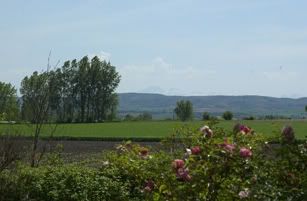 Along the canal. View of Pyrenees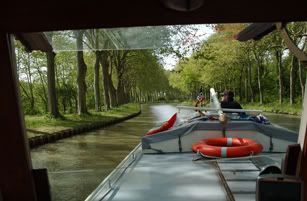 Plane trees of The Midi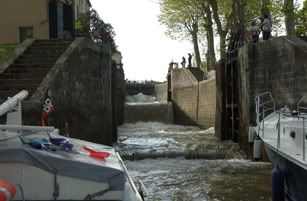 Lock of St. Roch. Step locks (4)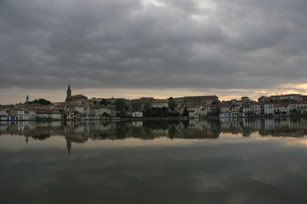 Castelnaudary at sunrise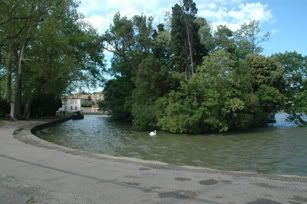 Man-made island in basin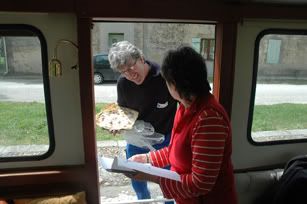 The misterious "pie man" with his pie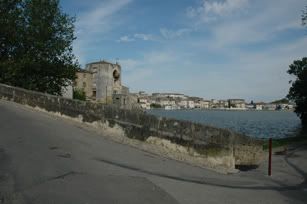 View of town from port bridge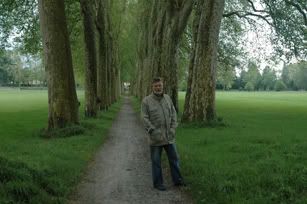 Ancient plane tree lane in old octagonal basin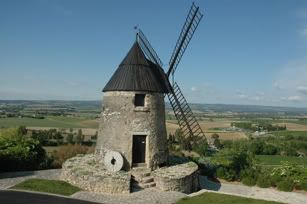 Old restored windmill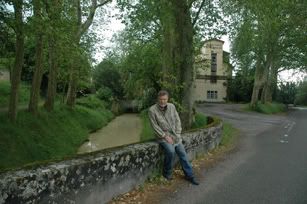 Windmill at Naurouze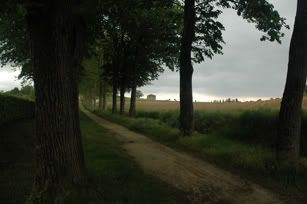 Walkint to Riquet's Obelisk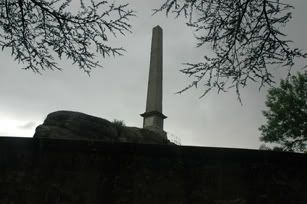 Obelisk to Riquet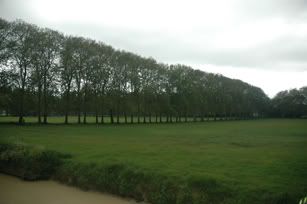 Silted up basin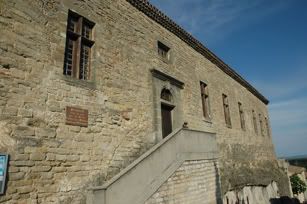 Le Presidial built by Catherine de Medicis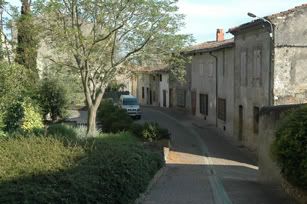 A beautiful street in Castelnaudary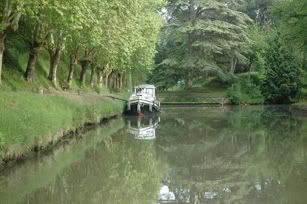 Our mooring at the parting of the waters before descent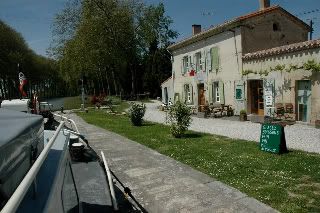 Lockhouse Boutique and Cafe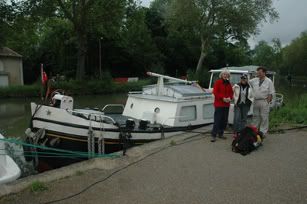 English pilgrims at La Segala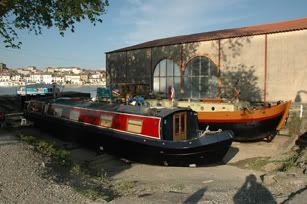 Two beautiful boats ready for the water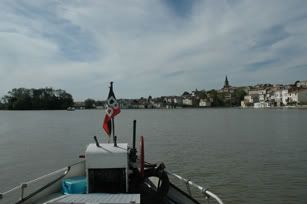 Entering the basin at Castelnaudary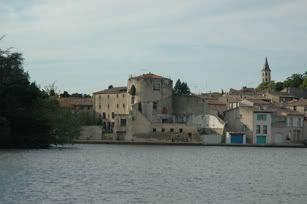 Old Mill at Port entrance, Castelnaudary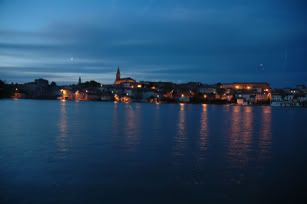 Castelnaudary al night