Part 1
Ken's Visit
As I sit to write this entry, it dawns on me that it is August 31 already. The grapes are being harvested in many of the vineyards around us, sometimes during the night, process which will go on perhaps until late September or early October, depending on the grape and vineyard.
This last month has been a fun filled month for us. At the end of July, and soon after we put the boat in the water, we sailed it back to The Midi and met our friend and artist Ken Christensen in Beziers. He arrived late one afternoon and we met him at the train station where he was coming from Paris. Ken had lived in The South of France for 8 years and wanted to take a leisurely trip to do some painting. Although we had some very hot days while he was here, we managed to spend time in Beziers, a city he did not know, but instantly liked. It has the southern flavor of The Midi, and its architecture, unique light and ambience add to its charm. We managed to play boules by the canal one evening, something we had done with him and his family in St. Tropez two years before. We had such fun! I had to do some bank business the next day, so we all went into town and after my trip to the bank walked over to the Beautiful Cathedral and square that sit strategically overlooking the Orb River and its valley below. While Bill and I toured the Cathedral, Ken scouted out scenes he could paint and soon found the perfect spot on the wall where he sat and reproduced a stunning view of the tile roofed houses that filed below his feet.
When he was finished we decided to go back to the Avenue Paul Riquet, a tree lined and shady street full of restaurants and cafés. It was lunch time, we were hungry, so we chose one that appealed to all and had a lovely lunch. Ken wanted to do some more street painting, so he stayed in town, Bill and I did some shopping before returning to the boat and decided to spend one more night in Beziers to give Ken the chance to enjoy the city.
The next day after a nice breakfast, we set off in the direction of Capestang and had a superb trip down a most beautiful area of the canal. It was hot, but the shade from the plane trees and the gentle breeze about us cooled things down considerably. We stopped the boat for a short lunch along the canal and continued on to Capestang. Ken wanted to go to the Tourist Office in the port to inquire about trains to Paris. The two ladies at the tourist office were most helpful. They told us to come back in an hour, when they would have a printed schedule for him. We walked into the town, bought some bread at the local bakery on the square and went back to the Tourist Office. They had a display of local wines, so Ken bought a bottle of Minervois, picked up his schedule and said good bye. We wanted to spend the night beyond Capestang at a very high point in the canal where the Huge Collegiale can be seen in the distance and the vineyards glisten in the valley below. We got to the right spot too early, and the sun was still high in the sky. There was no shade yet provided by the plane trees, so we went beyond for a few kilometers and slowly made our way back to our favorite spot. Although the trees were not shading the boat entirely, soon they did.
We all had our cool aperitifs, and while I prepared dinner, Ken sat by the tow path, sketch book and watercolors in hand to produce an exquisite painting of Biesbosch.
One thing I love to do while I cook is listen to music, and when we are moored in a gorgeous spot with beautiful music in the background, I am invaded by such a feeling of freedom . For some reason, if I cook with music, my creative juices flow and I can concoct some wonderful dishes in the kitchen. Every dinner with friends and family is an experience we love to share. Good wine and conversation added to it make the perfect shared moment.
We had some wonderful meals with all of our guests this summer, and I so enjoyed all of them!
The following day after breakfast, we continued westward towards Le Somail, a charming little hamlet on the canal, and a favorite of Bill's and mine. It has a small bridge with a chapel attached to it on one side and on the other an ivy covered stone house, now a Bed and Breakfast, small terraces on both sides and a most interesting bookshop where collectors come from all over to look for first editions and other esoteric books.
We arrived around 1:30 and left the boat in search of a nice restaurant where we could have a good lunch. As we sat on one of the terraces on the edge of the canal and ordered a drink, the young waitress did not seem very happy with our order. We looked at the menu, which did not appeal to any of us and decided we would only have a drink. When she came back to get our order, we told her we were not going to eat, so she asked if it was because of her. She knew she had not been nice at all. We assured her it was not her, and she broke down and told us she was very upset because she had lost her dog two days before and could not find it. We asked for her telephone number so we could call her in case we saw it along the canal somewhere. We crossed the bridge and went to the other side to look at the menu of the O a la Bouche Restaurant. It had a very appealing menu, the setting was perfect and the dishes they were bringing out of the kitchen were beautiful. This lunch turned out to be a fabulous experience in every sense. We sat there for over two hours eating and drinking and after Bill and I left, Ken stayed at the very spot so he could do some more painting.
The next day Ken was to leave in the afternoon, but there was a market and sort of art fair in town and we did not want to miss it. There were vendors of all types, artists, book sellers, jewelry makers, wine tasting, hams, sausages, cheeses, etc. It was a fabulous little event at a very small scale. I had bought some great cured ham and cheese, so before Ken left, I made him a big sandwich for the train trip back to Paris. A taxi came to pick him up to take him to Narbonne, we said good bye, and vowed to see each other when we are in California this coming winter. We were very glad to share with Ken the beautiful experiences we get to live every day of this new life that we have chosen.



BBQ at the port in Beziers.


Ken sketching in Beziers.


The Pont Canal with Beziers Cathedral in background.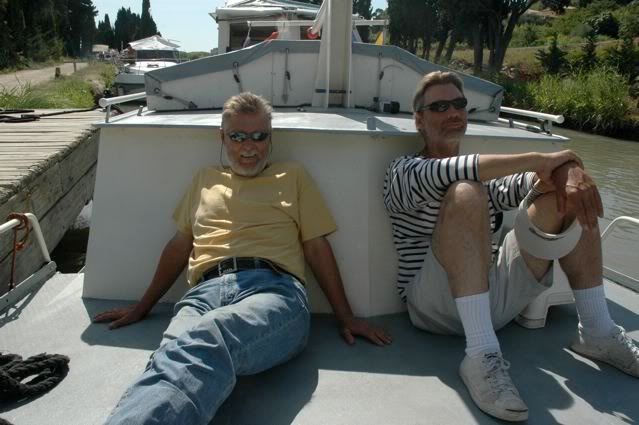 Captain and First Mate taking a break.


Ken at the 8 locks of Fonserannes


Interesting view on the Canal du Midi.



Entering the Malpas Tunnel.



Ken sketching with Capestang Collegiale in background.



Ken at the helm.



Entering Le Somail.