We met Jim and Val Meiling while we were still in Cambrai working on our boat. They stopped at the port for a few days to do some work on their beautiful converted tugboat, Triton. That same year, 2005, we met them in Pont L'Eveque on the river Oise, on our way to Champagne. They stayed with us on the boat one night. They were going back to New Zealand to build a house, so they put their boat up for sale. We have kept in touch since then, following their progress on the building of the house in Christchurch, a ranch style home in the most beautiful setting. Jim went back to work at the airport in Christchurch and Val continued her practice as a mid-wife.
This year they came back to Europe on a vacation to see all their boating friends and to start looking for a boat. They miss their boating life and want to come back. Their house will be put up for sale and they will be buying a boat sometime next year.
Jim and Val arrived at the port of St. Sauveur, parked their car nearby and came to see us. We would be leaving Toulouse the next day, so Bill had to get fuel and take care of last minute details. Jim, Val and I walked to Victor Hugo, the covered market—a most amazing place—so they could experience it. We bought a few things, and on the way back to the port, stopped at a little bistro for lunch. The sky had turned black and just as we arrived on Biesbosch it started to rain.
We spent the afternoon catching up and enjoying ourselves. Later on, the guys went to drop off Jim and Val's car at Naurouze, our destination, and where they would be picking it up the next day, In the evening, we had a great dinner, lots of wine and wonderful conversation. We were excited to be starting our 2010 cruising season the next day in the company of our friends.
The following day, the sun was shining in its splendor, a beautiful day for navigation. After Bill and Jim filled up the fuel tank, we were ready to cast off. Sadly, we were saying good bye to Sylvianne, our dear captain, who has always been so kind an accommodating, and whom be have come to regard as a good friend. Also our friends Rudy and Jytte, who we hoped to see along the canal before we go up The Rhone, and Jill, a South African lady who had given me some herbs for the boat, and who had been extremely nice to Bill when he came back and was alone working on on Biesbosch.
It took us a couple of locks to get back into the rhythm of things, but having the help of Jim and Val on high locks was great. We went as far as Montgiscard, tied east of the lock at quite a nice and solitary spot, about 4 hours total navigation time.
It was 6:00PM, aperitif time, so we sat in the wheel house set up for our lovely drinks and I cooked an arroz con pollo—they had never had it—which was a total success. A few bottles of wine were consumed that evening, and we turned in around 11:30 PM.
Next day we left Mongiscard after a nice breakfast, on a very beautiful, sunny day. We stopped for lunch, and arrived at the lock of Ocean, the last one going up and the highest point in the canal, at 6:30 PM. We were alone in our favorite mooring, with nothing but the sounds of the birds and the frogs and surrounded by the most amazing trees.
After our aperitif, Bill and Jim set up the grill for a "grillade" of Toulouse sausage, white sausage and pork chops, all accompanied by grilled eggplant and red peppers and some Indian style potatoes I had gotten at Victor Hugo. We had some good Minervois wine, but the piece de resistance was a bottle of Pegassus Bay Chardonnay from New Zealand, a gift from Jim and Val, and a superb wine.
The next morning, after having checked the monument to Riquet, the engineer who built the Canal du Midi in the 1600's, and seen the 'parting of the waters" –at this place the water goes west to The Atlantic and east to the Mediterranean, Jim and Val were to leave and continue on their trip. It was a very short visit, but a most enjoyable one, and we only hope to see them back on the European Waterways some day soon, enjoying this life as much as we do.
Bill and I stayed at Naurouze one more night, after having taken a gorgeous walk around the area. We shall always remember this spot as one of the prettiest on the Canal du Midi and feel very lucky to have been able to stay here the few times we have.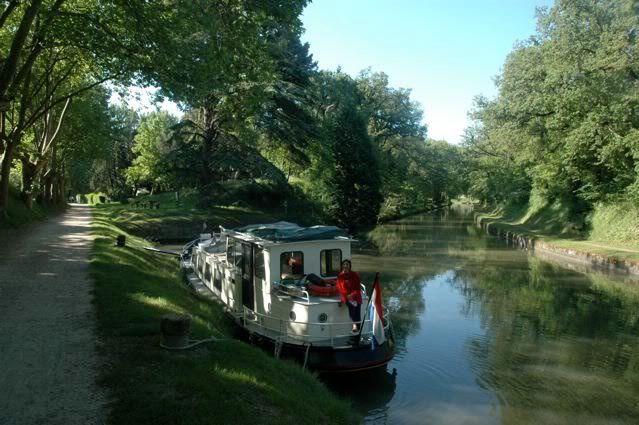 Leaving Naurouze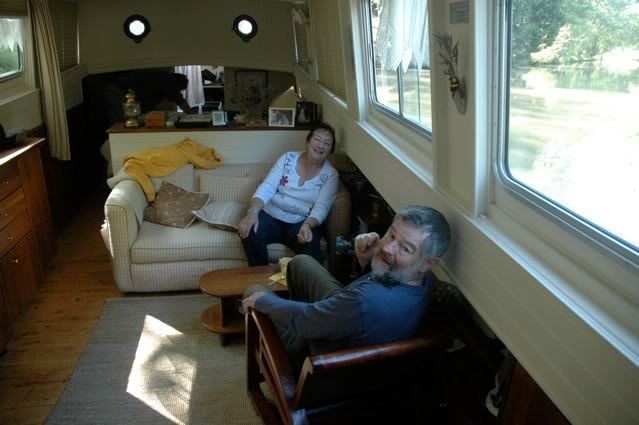 Jim and Val on tea break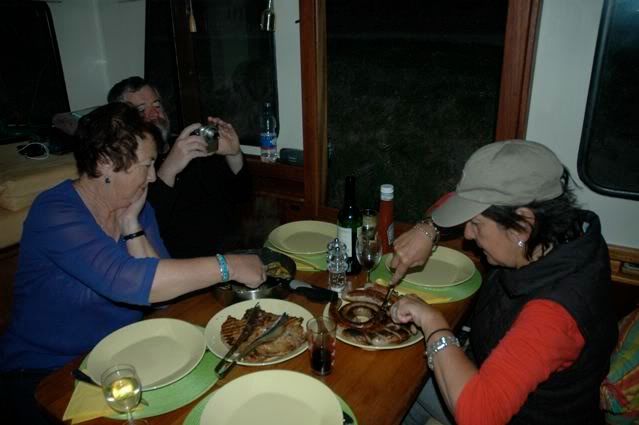 Our grillade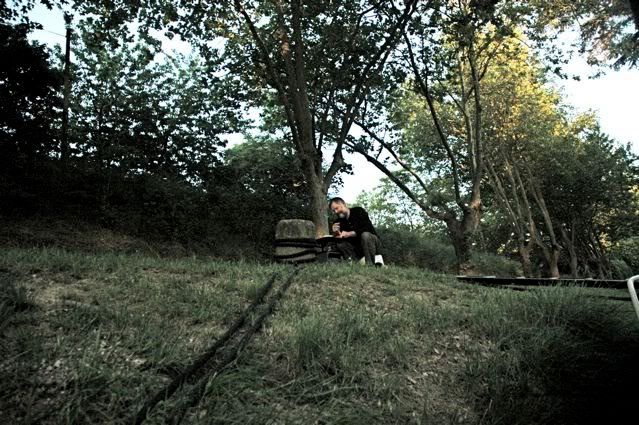 Jim, a grill master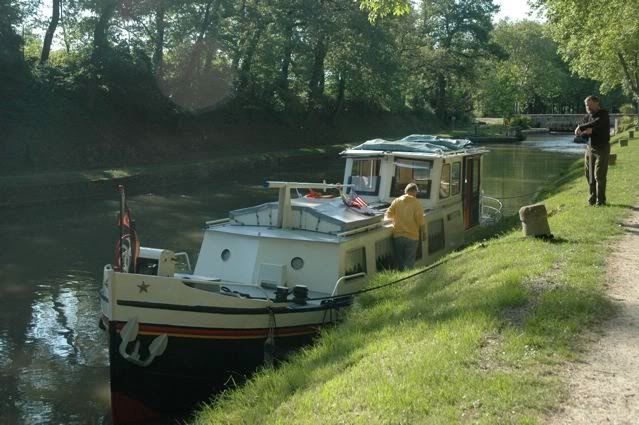 Bill and Jim Tying up at Naurouze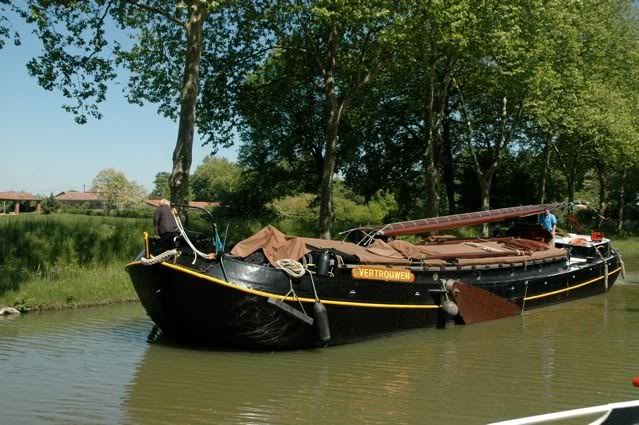 A beautiful Tjalk just out of the dry dock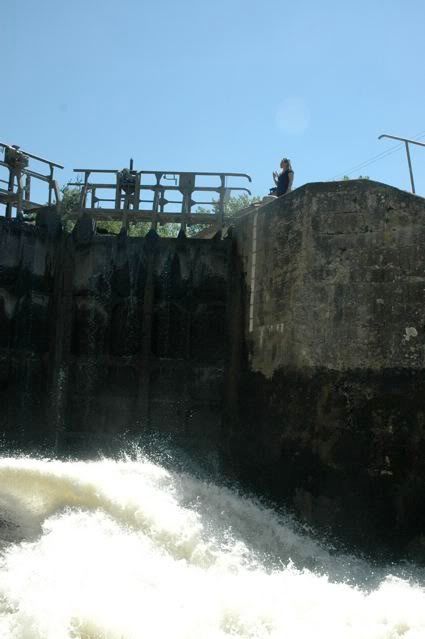 Locking up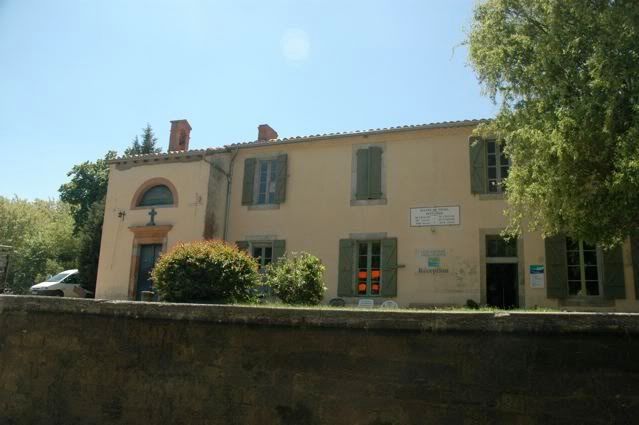 Lock house with chapel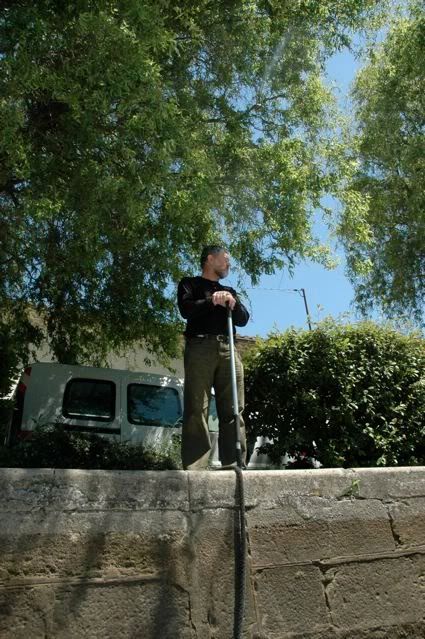 Jim at work on lock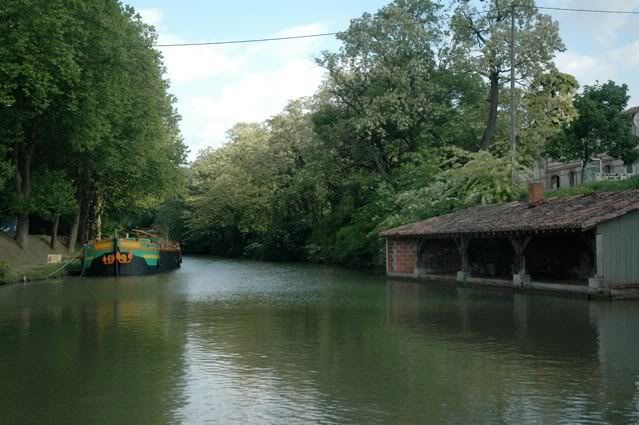 Our mooring at Montgiscard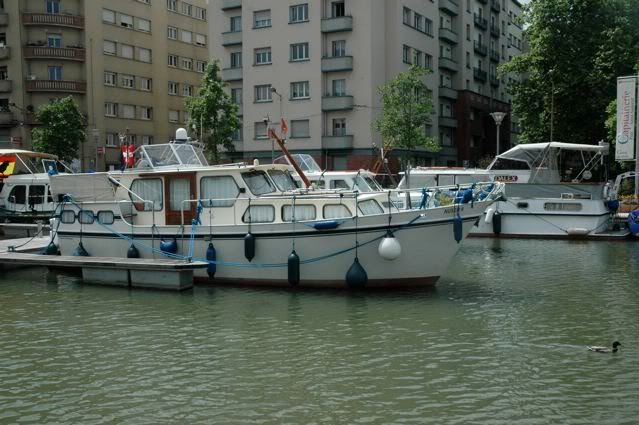 Nuser II our friends Rudy and Jytte's boat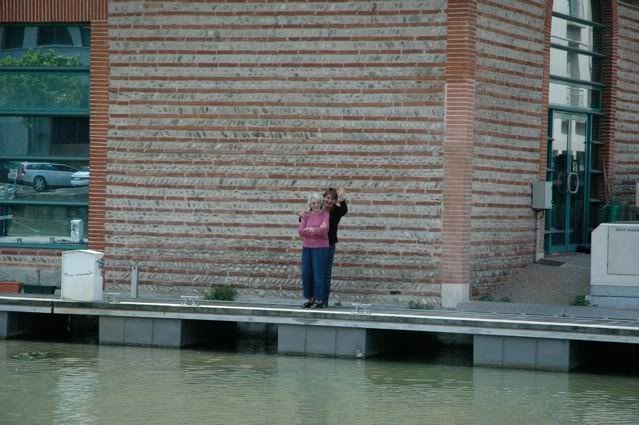 Sylvianne and Jill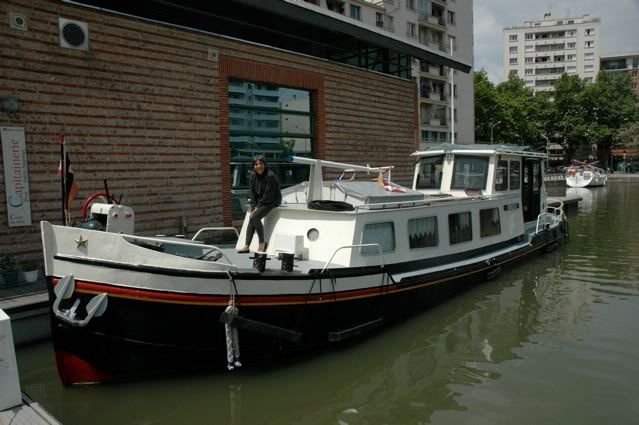 At the port in Toulouse