April 13 our son Ian arrived in Miami for a short, but fun filled visit. We drove to Ft. Lauderdale to pick him up on the first flight of the day which arrived at 6:00 am. The flight was a bit delayed and the wait seemed endless. Once he arrived, we were so glad to see him that it did not matter how early we had gotten up or how long we waited at the airpot. On the way back home, we stopped for breakfast and as soon as we arrived, Ian went to sleep for a few hours. He was to be here for only three days and he wanted to see Pablo's boat, as well as Juan Pablo's, so we took him to see them, of course.
My nephew Gabriel was in Miami that weekend, so Pablo and Libia invited him along with Ian, Bill and I and Katalina, her husband and baby to go to Elliott Key for the day. Libia and I prepared a lasagna in the morning before we left and had a beautiful day of sailing. For Ian it was a great day with the family that we all enjoyed. Lunch was great and afterwards we watched one of Juan Pablo's races on the boat. He did well and the race was very exciting. In the evening after our return, we went to Miami Beach to see Juan Pablo's boat. Al berto, the captain showed Ian around and we stayed for a while visiting with him. The next day after breakfast, Bill took Ian to see JP's F1 car,n which he really wanted to see. Libia had prepared a special lunch for Ian at home, so after we ate, we rushed over to the boat to see the Nextel Cup race in the Hotpass channel. Each weekend NASCAR picks 5 drivers, each of which has a designated channel, and one can watch the race from the driver's seat and perspective. It is a most exciting way to see the race, but also very intense. It was also a good race, and we all finished feeling emotionally exhausted. In the evening we went home, worked on our photos, spent time together and retired for the evening.
Monday morning, we got up before 5:00 am to drive Ian back to the airport. Although it is far from Miami, we made good time and got there early enough. We sat and visited with our son some more until it came time to say good bye. Needless to say, we hated to see him go through the gate, but at the same time started looking forward to seeing him in August when he comes to visit us in France.
The following week, our friends Debbie and Richard from California came to see us for a short three-day visit. They were going to stay in a hotel nearby, but our friends Justo and Stella offered to have them stay with us in their guest house, which turned out to be the best of ideas. We did not waste any time driving to and from downtown and instead spent all the time together.
The first day after a late lunch at a Cuban restaurant, we came back to the house and took a break sitting in the garden among the trees in the company of Justo's wild birds. The weather was fantastic, we did a lot of catching up and drove to South Beach so they could see how that whole area has been recovered. All the Art Deco buildings are remodeled, and there are hundreds of sidewalk cafes and restaurants with nothing but beautiful people all around. We parked the car and walked along Lincoln Road, where Debbie and I did a bit of shopping.
The next day,we drove down to the Keys as far as Isla Morada. It was a great ride, especially the part where you are driving along with the east coast on one side and The Gulf on the other. Again, it was a gorgeous day. We stopped for lunch in Isla Morada at a place called Morada Bay. The restaurant is literally on the beach, Bahamas style, an unbelievable spot. we ordered drinks, then a great lunch, and then moved onto the sand for dessert and live music by a bahamian male singer with a beautiful voice. We spent the afternoon in the sun enjoying the sand, the waves and the company of our good friends.
Next to the restaurant there is a very beautiful and very big store wher they sold fishing equipment and clothes. Inside, they have Hemingway's boat fully restored, along with memorabilia and photos of his fishing expeditions. Debbie found some things to buy and after that we drove back to Miami. The next day we took a boat ride on El Mico with Pablo and Libia. This time we went as far as Boca Cheeta Key, a former privately owned island which has a beautiful lighthouse and lovely harbor. We had lunch on the boat after we anchored there and took the dingy to shore to explore the island. It was great walking along the small beach and seeing the large sting rays and mantas that are abundant there. After a lovely day, we arrived back at Crandon Park Marina after dusk to find that the sailboat moored in front of El Mico had sunk. We could not believe it! There it was in the bottom of the water, only its masts sticking out. What a terrible loss for its owner.
Saturday morning after breakfast, we took Richard and Debbie to the airport, all of us very sad to say good bye. We are so thankful to our friends for coming to see us, and happy to have been able to share such lovely times with them.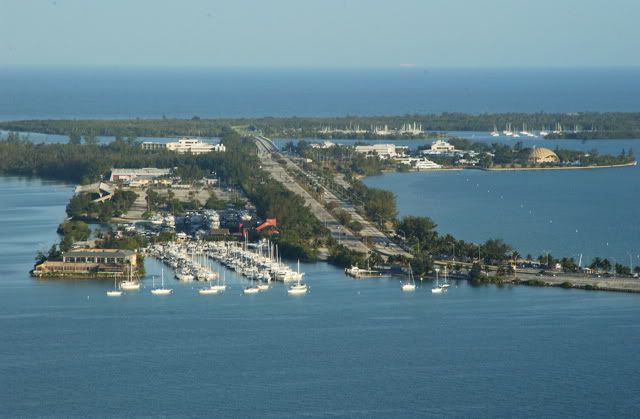 Key Biscayne & Crandon Park Marina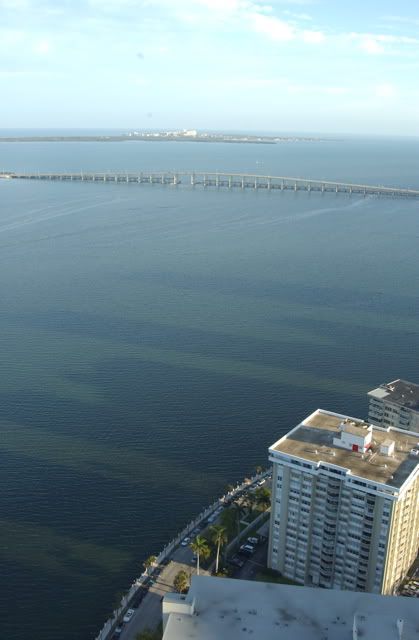 Our Apt. Bldg.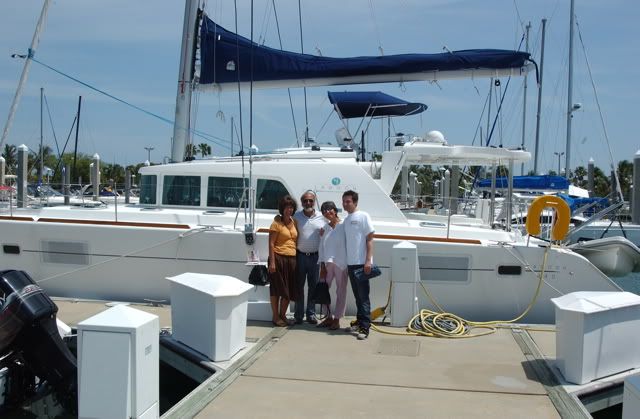 Leaving for Elliot Key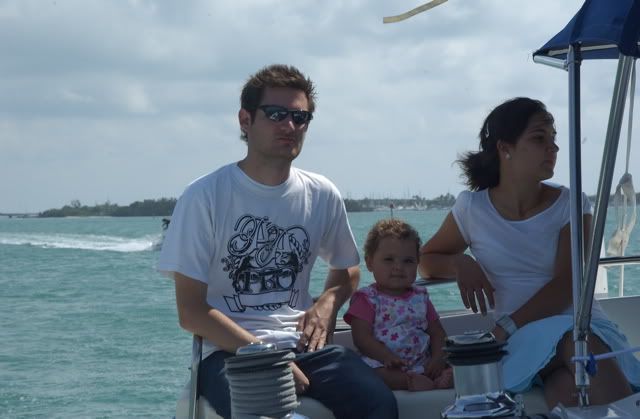 Ian, Valentina and Katalina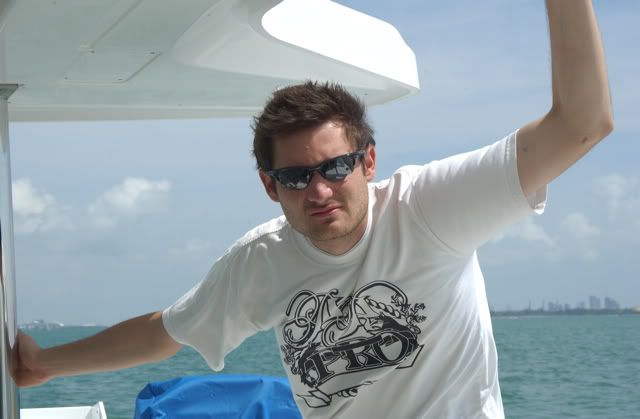 Ian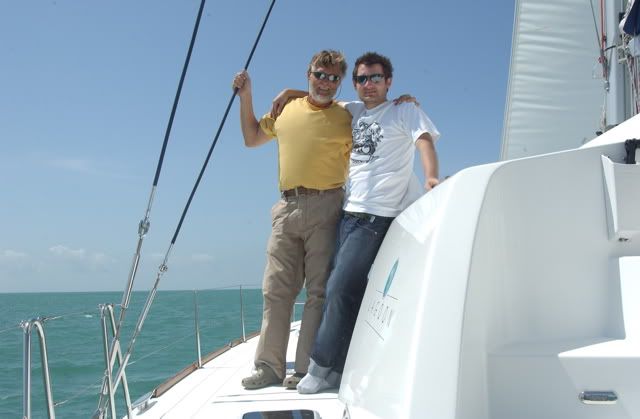 Father and Son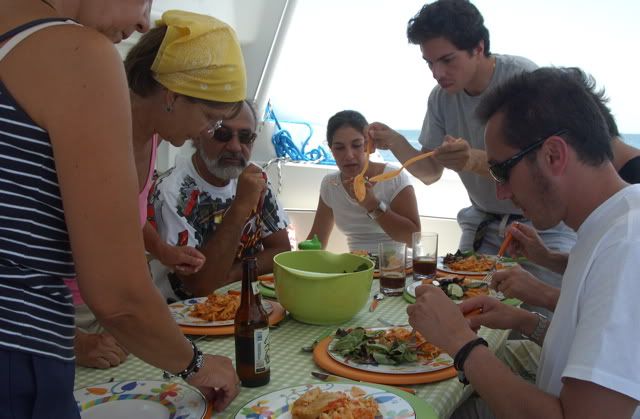 Lunch on El Mico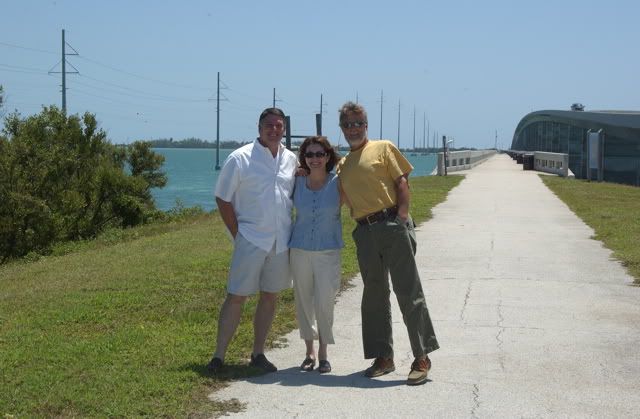 Bill, Richard nd Debbie at Isla Morada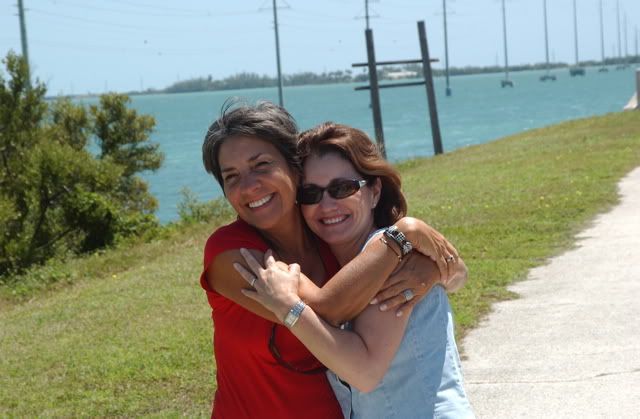 Good friends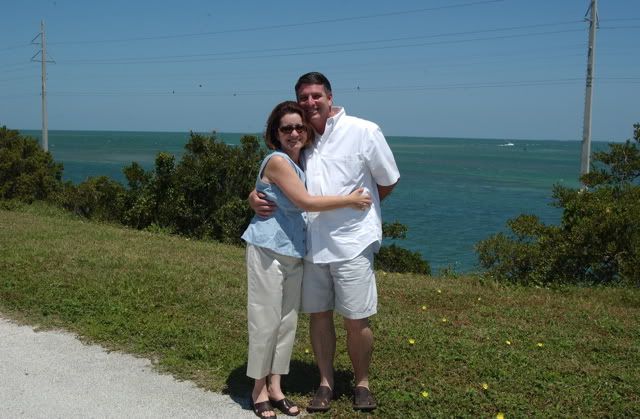 Richard and Debbie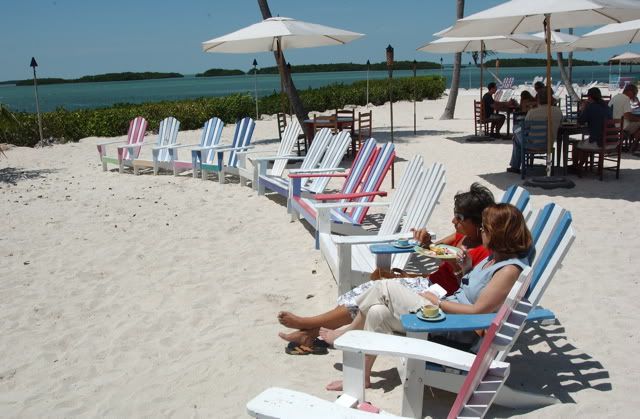 After lunch at Morada Bay Restaurant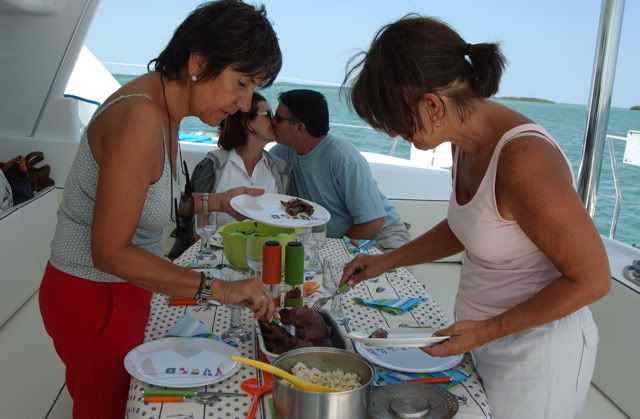 Love birds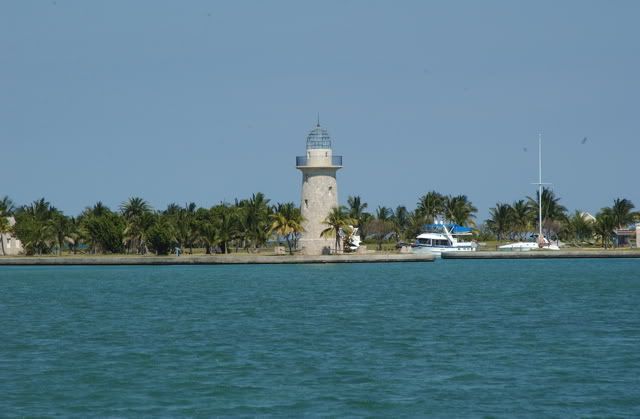 Boca Cheeta Key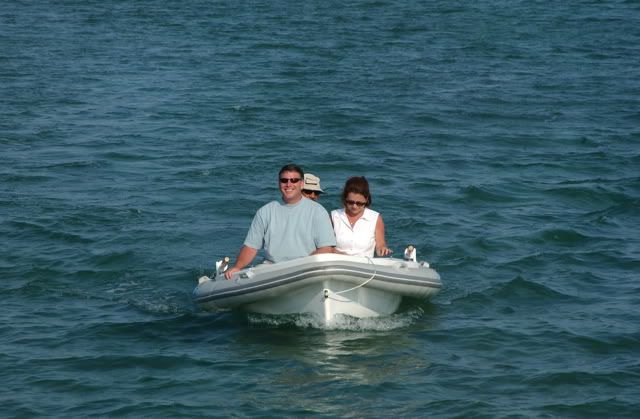 Richard and Debbie