On Thursday, April 5, we got up before 6:30 am, and navigating by 7:30. It was a gorgeous day, although the wind was not blowing enough. It took us 11 hours to sail from Warderick Wells to Lyford Cay on New Providence. We had called this morning to reserve a spot in the marina, where we spent 2 weeks before setting off for the Exumas.
As we entered the port, the Harbor Master was waiting to help us tie our boat. It felt good to be back in a familiar place. Libia and I borrowed the golf cart and went to the supermarket to get a few things. On the way out, we saw one of the fishermen we had met here before with a truck full of the fish he had just caught. He filleted a couple of red snappers for us. We were hoping someone would have fish or lobster to sell us, and here this guy appeared out of the blue.
After the market, we met Bill and Pablo at the local Captain's Table, the marina restaurant where we had a few beers and some great crab. We had had a long day of navigation and were very tired.
On Good Friday, around 11:30 am, we left Lyford Cay. The wind was just right, so we had the sails most of the way. It was a beautiful day for navigation spent on deck soaking up the sunrays. Around 4:00 pm, as we were entering the port, we called the marina and got instructions as where to tie. The place is enormous, with more than 300 spots. The facility is a place called Chub Cay Club, a new resort which is still being built and whose marina was inaugurated in August of list year. It is a pristine and modern facility with restaurant, stores etc. We planned to stay only night, so we tied the boat up and off to explore we went. The development has over 100 houses in the island style, wooden facades and pastel colors. Outside the club, there are ocean front houses with private beaches, a small airport, and mangroves in the center of the island. The Cay belongs to the Berry Islands, and Chub is some 30 miles from New Providence.
Saturday we set our alarms for 430 am, but as we set to go, the wind started to blow so hard, that we could leave the dock without being pushed into it. We waited until 7:00 am, but no luck. Since we were to sail some 70 miles to Cat Cay and wanted to be there before dark, we decided to stay. We took out the bicycles and went off to see the island, which has basically only one road along the length of it and one across. At the end of one of them we found a path to a lovely beach of warm and shallow waters, where we sat for a while to cool ourselves off.
At exactly 6:40 pm, we left Chub Cay, had an absolutely gorgeous night for navigation. The sunset, breathtaking, and a starry night like we have never seen before. We were able to set the sails for at least 6 hours of the 13 that it took to get here. The moon came out like a ball of fire soon after midnight, lighting the way for us the rest of the night.
This was our 31st day away on the boat and our third of night sailing. We took turns watching the radar while others napped. The sun came out shortly after 6:00 am on this Easter Sunday, and around 8:00, we anchored at the same place we were before, this time making sure the anchor is in the sand. It was here that the anchor alert went off on our way down south.
We had breakfast, some of us slept some more, and we are now waiting until noon or so to do the Gulf Stream crossing. If all goes well, we will be back in Miami this evening full of wonderful memories of the new places we have seen and anxious to come back to see more of it. On Friday, our son, Ian is coming from California, so we are very excited to be able to see him and spend a few days with him.
"Once you are flat, you never go back" This is a reference to a ride in a catamaran. The flat stable right and the comfort of it make it a great vehicle to sail long distances in all kinds of weather. We love El Mico and only hope to be able to do some more sailing on it.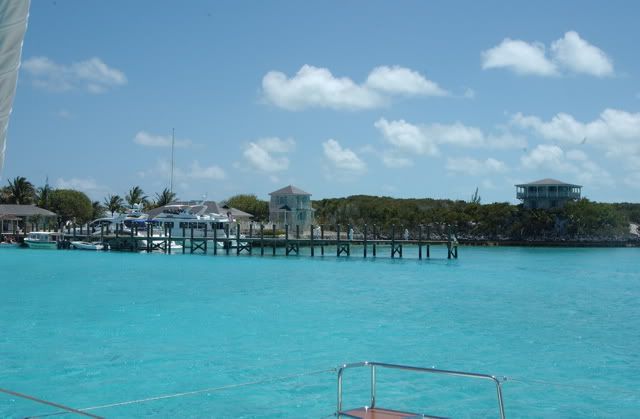 Samson Cay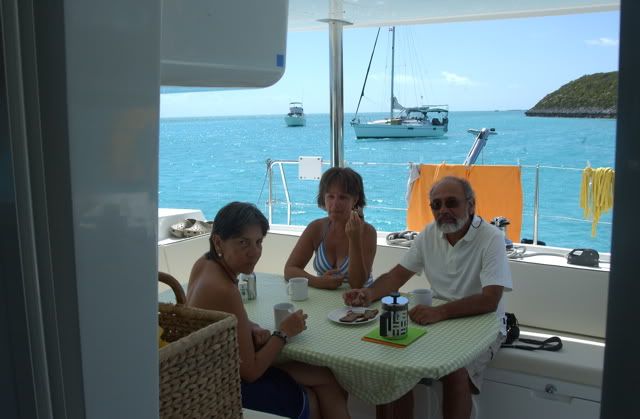 Taking a break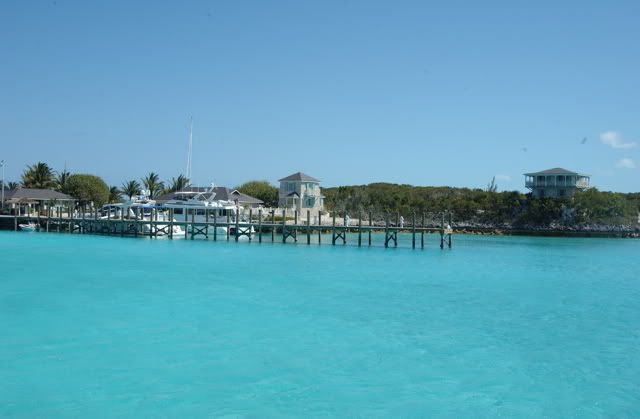 Samson Cay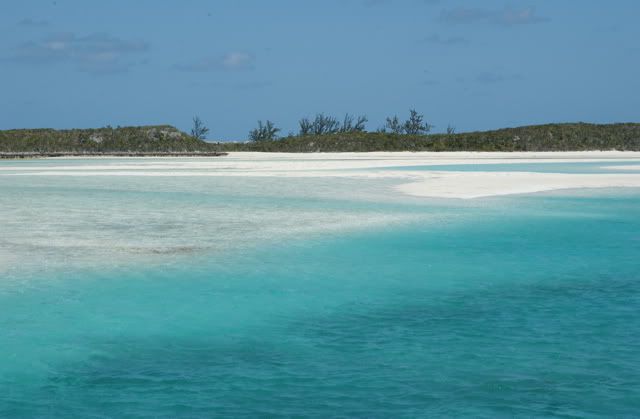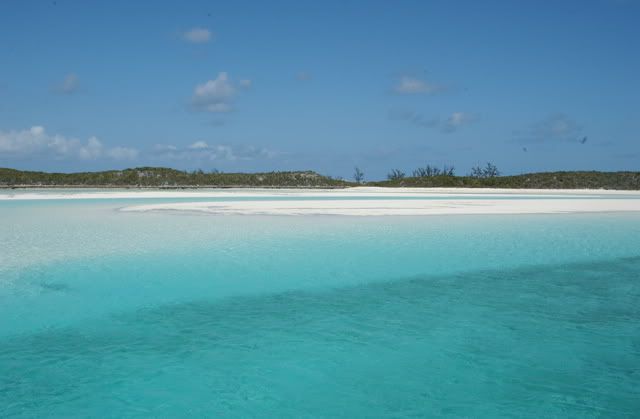 Laggon at high tide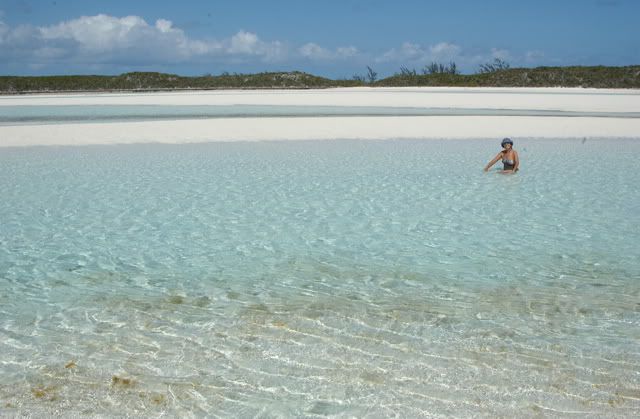 Lagoon at low tide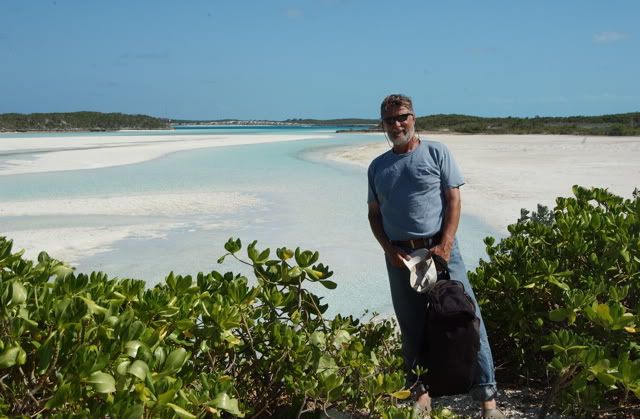 Bill at Samson Cay Lagoon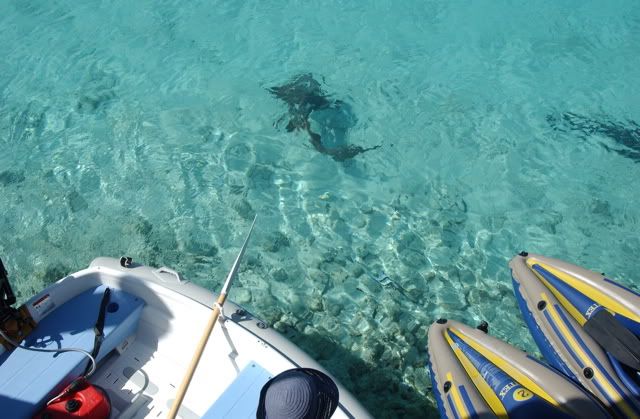 Sharks!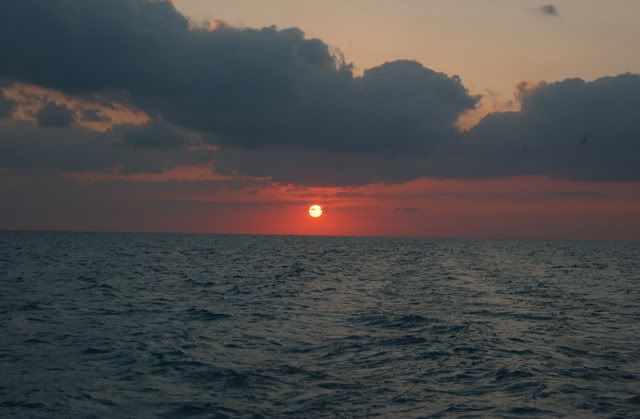 Exumas sunset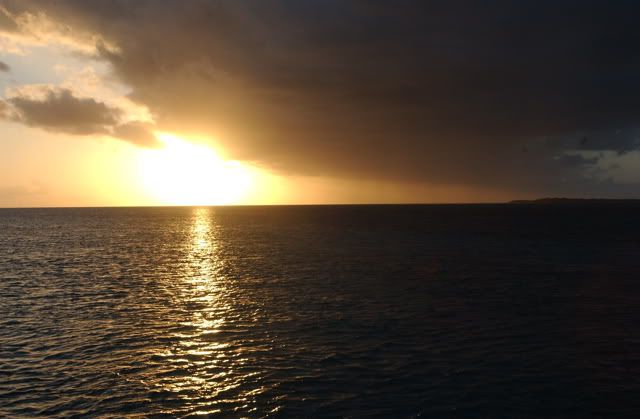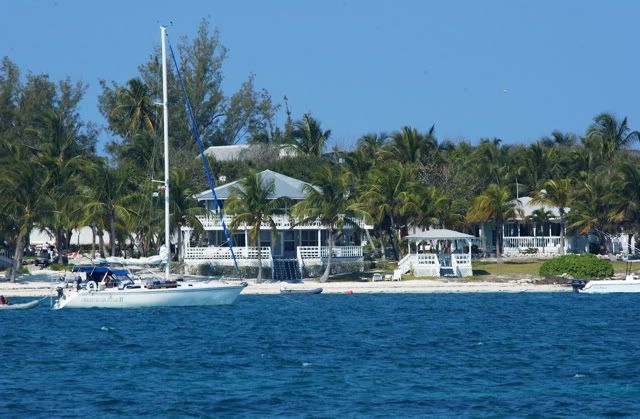 Cat Cay
Bill working the anchor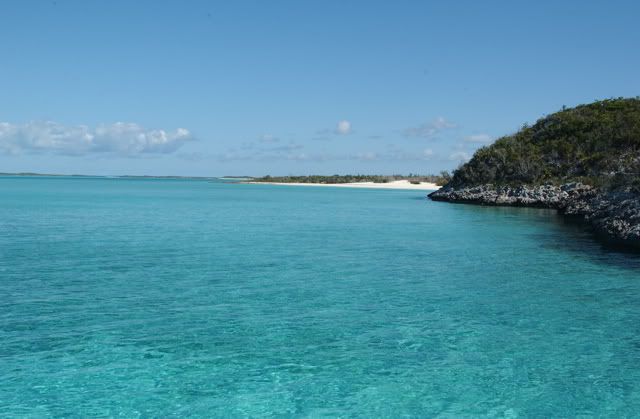 Arriving at Warderick Wells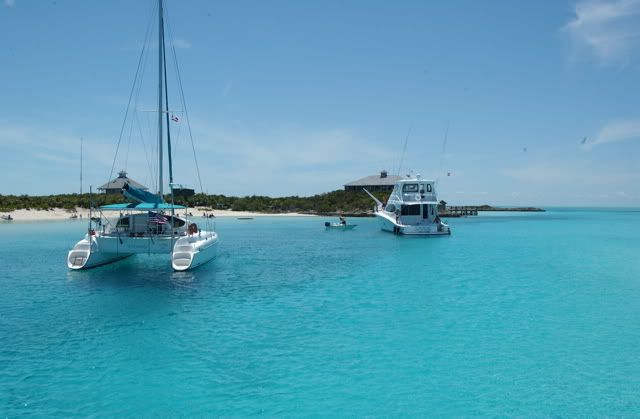 A lovely spot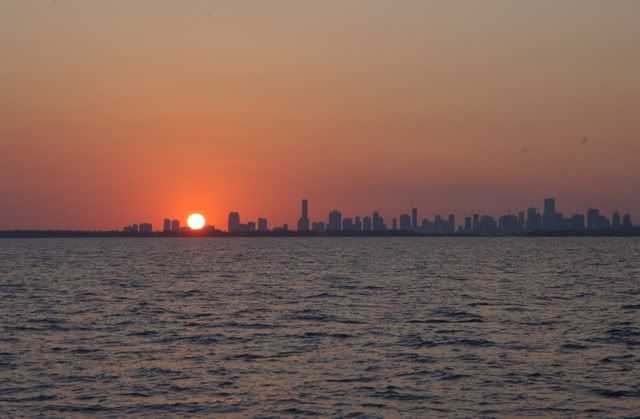 Sunset in Miami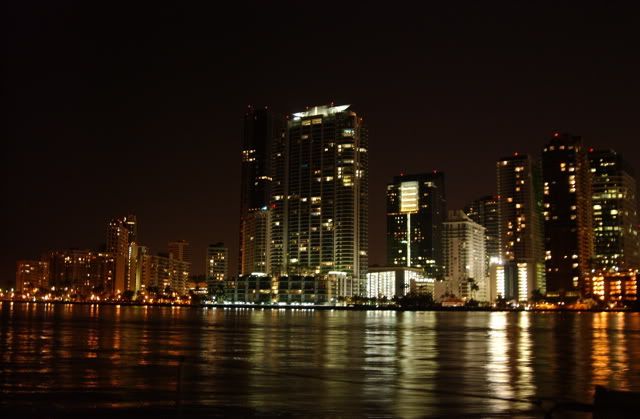 Miami skyline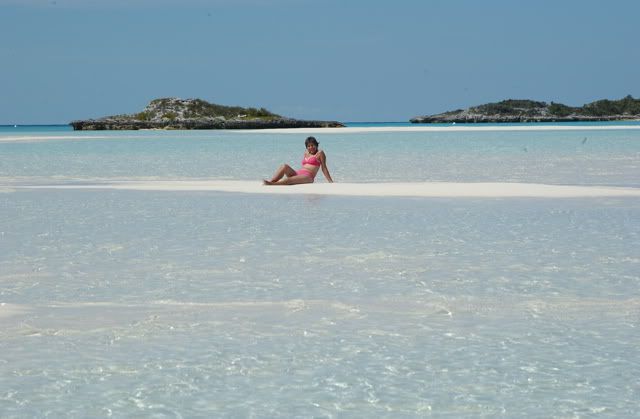 Warderick Wells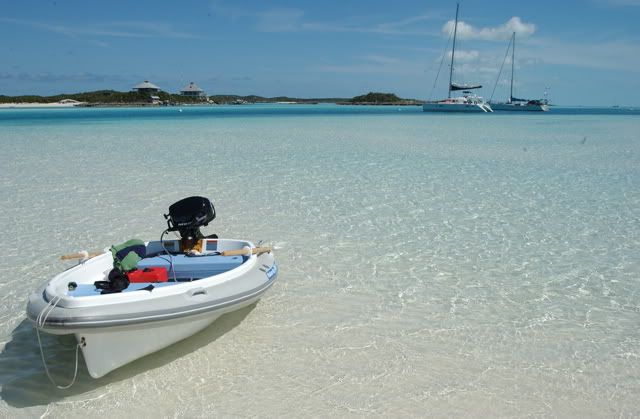 Our Dingy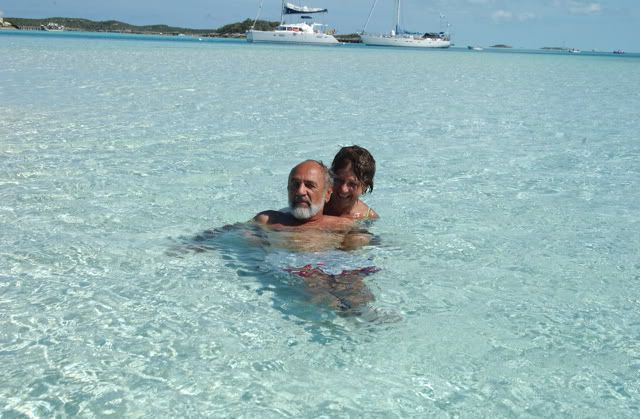 Pablo, Libia and El Mico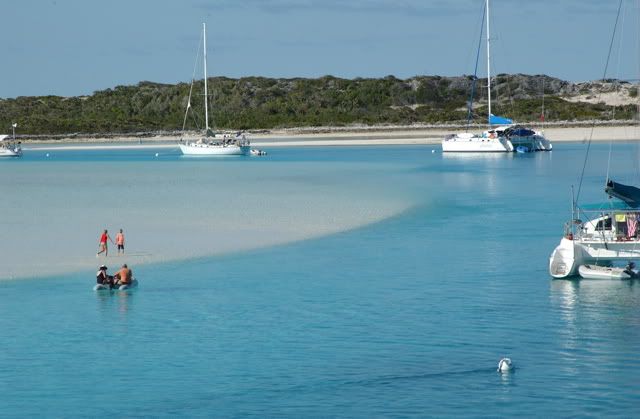 Moorings at Warderick Wells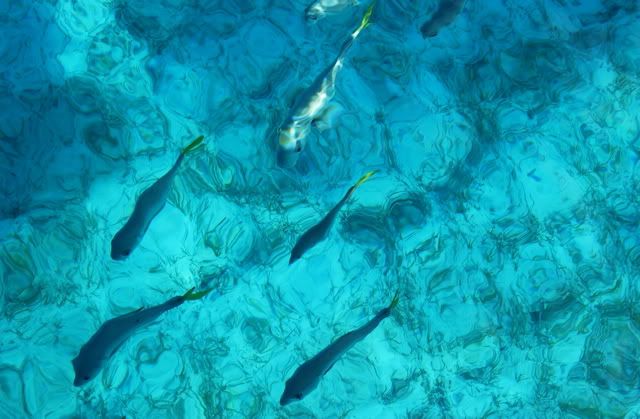 Our own aquarium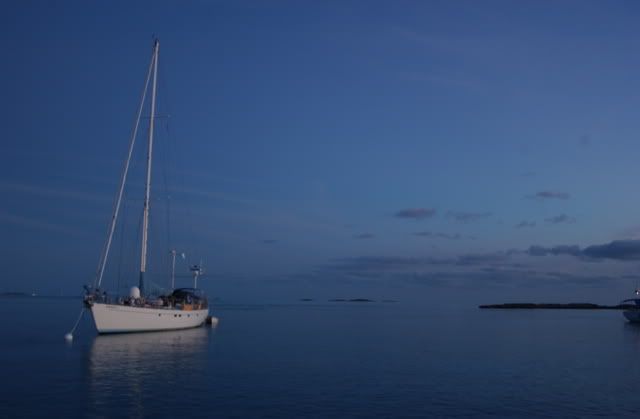 Sailboat at sunset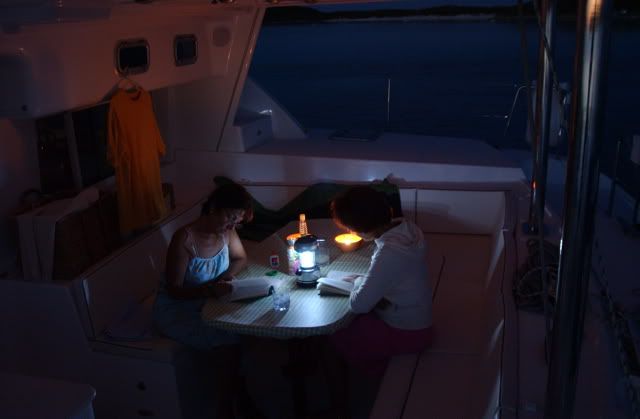 Reading at night