On Sunday, March 11 we left North Bimini Island around noon with perfect sailing conditions. The weather, about 76F, winds of 12 knots, sunny blue skies and beautiful waters. It took us only about two hours to Cat Cay, which we approached by coming in between Gun and Cat Cays. El Mico was anchored about 150 meters from the beach, close to the Yacht Club. The beaches are pristine white, and unlike Bimini, this island, which is a private island, is full of palm trees, and gorgeous houses and mansions.
The Nascar race from Las Vegas was to start at 4:00 pm, so Libia and I prepared a lovely lunch, which we accompanied with champagne to celebrate our arrival. After having read for a while out on the bow of the boat, we sat down to watch the race. Juan Pablo finished 23, after many mishaps, although he managed not to get into any accidents of which they were many. After a light dinner, Bill and Libia played a few rounds of backgammon, and I read some more. The night was beautiful, and the sky replete with stars. We had our hatches and windows open, so we had a great night sleep with the rocking of the boat.
On Monday morning after our breakfast and daily chores, we took the dingy ashore to explore the island. We tied the boat at the port and inquired about what we could see. We were allowed in the Yacht Club, a very large and beautiful area with golf course and gorgeous mansions, covering a long a narrow stretch of land. Most homes have lovely manicured gardens, swimming pools, and of course, beach fronts. It took us two hours to walk around, and on the way back, we found a lovely restaurant by the Marina, where we had a great lunch. They had a computer with Internet access, so I was able to read my messages and send a few of my own, since I don't know when I will be able to do it again.
We returned to the boat around 4:00 pm to rest for a while. Pablo hurt his back getting on the boat, so he lay down with some ice to alleviate his pain. He hopes to be well enough tomorrow, so we can sail again. The plan is to get up at 4:00 am and sail to the Berry Islands, a 12 Hr. stretch, or so. We want to get there in daylight, so hopefully the wind will help us out.
Pablo Libia en Bimini
Biking on Bimini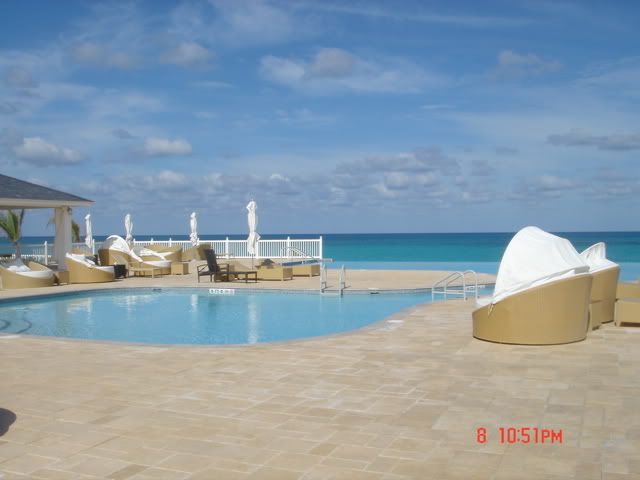 Resort on Bimini
sunset on Bimini
Cat Cay