Madrid- Leon- Astorga
In the summer of 1998 I studied at the University of Santiago de Compostela and fell in love with the city, its architecture, traditions, gastronomy and people. I remember observing the pilgrims arrive at the Square of the Obradoiro in front of the Cathedral. They were all so filled with elation after reaching the end of the Camino, that I wished I could experience that same feeling some day. Ten years later, my wish came true.
On July 4 I took the TGV from Bordeaux to Madrid which took about 10 hours, counting the train exchange and waiting time at Irun. It was an incredibly interesting ride, since the changes in landscape are so noticeable from region to region. I got to Madrid at around 9:30 pm and took the Metro to my friend Elena's house. In 1995, I spent a summer in Madrid studying and lived with her. She was at a reception with her sister, so Ines, another friend of ours was waiting for me at the corner cafe. We sat outside along with hundreds of people who do this every evening in Madrid, and had a cold beer with "patatas bravas" or spicy potatoes, the perfect accompainment to a tall glass of draught beer on a very hot evening. Elena soon arrived, we went home, talked until past midnight and soon fell asleep. During my time in Madrid, we went to see the Portrait of The Rainaissance in the new wing at The Prado, a most comprehensive and beautiful exhibit. We saw Mucha's Art Nouveau collection at the new Caixa Forum Museum, where we also had a great lunch. One evening we went to a Flamenco Ballet performance based on Bizet's Carmen, and upon our return from Santiago, to a Russian Ballet preformance of Swan Lake. It was hot in Madrid, but very dry, therefore not unpleasant.
Libia, my sister in law and super companion in this adventure, arrived on July 7 and stayed at Elena's as well. The three of us had a grand time shopping, eating and seeing all we could see of Madrid before our departure. On July 10 we took an early train to Leon, where we arrived around 10:00 am. From the train station, we walked to our hotel, Alfonso V, centraly located at the entrance of the old section of town. Leon, is a beautiful city not only because of its architecture, but also because of its great historical monuments. We visited The Casa Botines by Gaudi, the great Catalonian architect. This one is done in a neogothic style, much like the Archobishop's Palace in Astorga. It houses a museum, and its current exhibit is all art from Leon's Heritage. We also visited the Casa de los Guzmanes, a XVI C. mansion which today is a local goverment building. It is built from a yellowish stone from the area, has an inner coutyard and arches supported by Ionic style columns and lovely reliefs which still have some of their original color. The Cathedral, dating from the XIII C. in a sober French Gothic style is one of the main stops in the Camino de Compostela. It has a gorgeous tympanum and incredible stainglass windows and choir. The main square has great cafes and restaurants, as most towns and cities do in Spain. Down in the lower part of the city, by the river, there are the remains of the walls from the original city. There is a majestic old hospital, San Marcos, which is today a Parador Nacional, and elegant hotel. In the Casco Viejo or ancient part of the city, we visited the beautiful Romanesque church of San Isidoro, where El Cid was said to have been married.
Originally we had made reservations for 2 nights in Leon, but decided to cancel the second in view that we had seen most sights in town and we could use one more day to gain terrain on our walk. In the evening, we walked to La Humeda, where all the bars and cafes are in town, bought some cecina de vaca, a type of cured ham made from beef and some aged local cheese, olives and a good bottle of Bierzo wine. On the way back to the hotel, Libia bought a set of walking poles, a must in this Camino. The next day, we got up early, walked to the train station and bought our tickets on the first train to Astorga. We got there after a 2hr and 15 min ride. Our hotel, The Gaudi, was just across from Gaudi's Palacio Arzobispal in Astorga's old section. Troughout our walk, we made reservations for the next night's lodging. It gave us peace of mind and took away all anxiety.
Astorga, a smaller city than Leon, is the sister city of Moissac, the French town to where I walked along the canal to practice with full gear. It is about the same size as Moissac and very beautiful as well. There we visited Gaudi's Archbishop's Palace, the Cathedral, a mixture of Renaissance and Barroque styles in its exterior and Renaissance in its interior, is built from both white and pink stone. The Museum, adjacent to the cathedral has a great collection of religious and folk art of the Bierzo region. Libia and I had an incredible lunch of Cocido Maragato, a local specialty of El Bierzo consisting of courses of pork meats and saussages, garbanzo beans and cabbage and a noodle soup, all broght to us separately, accompanied by a superb wine and bread and a lovely dessert of natillas, very much like a creme brullee. This meal was an experience in itself. We were in the restaurant for about 3 hours. After such feast we walked the rest of the afternoon to walk off the calories and see the entire town. The City Hall, or Ayuntamiento, built in a Barroque style is in a square surrounded by restaurants and cafes. We walked to the western side of the town where we could see in the distance some very high mountains with distinctly traced paths. "They lead to Santiago de Compostela", we were told by some men who went by. Libia could not believe it. Could we possibly climb those mountains? They had to be mistaken. Well, the next day, the truth of their words was to be confirmed.

Our pilgrim silhouettes



Catedral de Leon



San Isidoro, Interior. Astorga



San Isidiro's Romanesque exterior



San Marcos



Gaudi's Palacio Arzobispal, Astorga



Catedral Astorga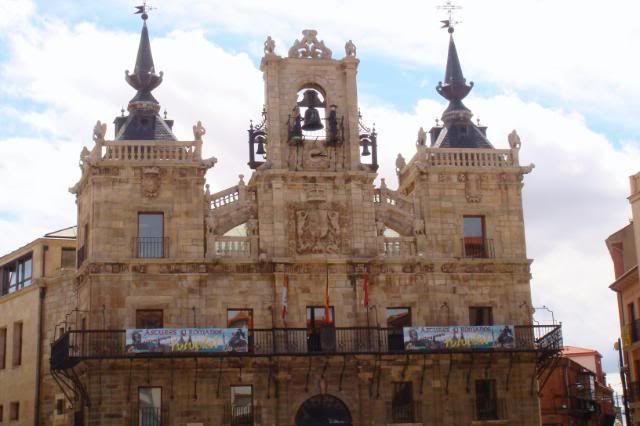 Baroque exterior, Astorga City Hall