On Oct 15, Bill and I drove to Toulouse Airport to pick up our friend Elena who arrived from Madrid Around 8:00 PM. Her flight was a few minutes late, and we were concerned that the little place in Carcassonne where we wanted to eat would be closed by the time we got there, Luckily, we arrived around 9:30, and it was not too late. It is a little Italian family restaurant where we had eaten before. We wanted pizzas, which we ordered with some wine, and Voila. Our pizzas arrived. Elena ordered an anchovies pizza which proved to be too salty to eat. She was too polite to complain, so she ate the crust, a little salad, and some of ours. We got to the boat, showed Elena around, and noticed she was truly impressed. She did not know what to expect, but she loved the feeling and the comfort of the boat. We knew she has a tendency to get sea sick, so we wondered how she would do once we would start moving.
As it is customary, the next morning Bill went out to get the bread and croissants for breakfast, only to find out Elena was not around. She had gone out for a walk before Bill had awakened. We had our breakfast, showered, got ready and went out with Bill as far as the Place Carnot, where they hold the market twice a week. This day they were setting up for the launch of the first wines, so the market had been reduced to less than half its original size. Bill left to do some errands and Elena and I walked to The Cite, the fortified city of Carcassonne. Every time I see it, which is at least once a day, I am in awe of its beauty. This day, it was sunny and beautiful, so Carcassonne was even prettier for Elena. We walked up a steep hill--no path--to reach the outer walls of the city. From there you felt taken back a few centuries. No pavement, electric cables or car noises could be heard. We could only imagine the sound of horse hooves hitting the stone path as they approached its gates. We went into the center of the cite, saw the beautiful cathedral, the Hotel de La Cite, the small squares and all other sites . As we came back into the Bastide--modern Carcassonne -- we went to have lunch at a little place where Bill and I have eaten called Le Cozy. They have great food, delicious salads and desserts, and a very nice atmosphere. We had a great lunch and walked through town, did some shopping and thoroughly enjoyed our day. In the evening, we went to taste some wines at the Place Carnot, many of the chateaux offering some great foods along with the wines. Later on,we cooked a Raclette for Elena, which she really enjoyed.
On Friday Bill had a dental appointment in the town of Fabrezan, so we left sometime mid-morning so we could have the chance to show Elena the countryside. The grape harvest had just been completed, the vines, in their golden and orange splendor made the landscape breath-taking. In Fabrezan, we walked around the town which is very charming and had lunch a a little restaurant across from Dr. Hortal's office. We met Bill and drove to Aigne, the small village shaped like a snail, Caunes Minervois with its beautiful Abbey and pink marble quarry, Minerve and its canyons, and all around the area. We had to get back to get ready for a soiree with our friends, Michele, Claudine and Dany, here on Biesbosch. Elena and I made a tortilla espanola, we had hams, cheeses, olives, and different hors d'oeuvres which we accompanied by some great wines. Dany brought an almond, butter dessert called Financier, out of this world, and Claudine brought an assortment of delicious panna cottas. Although it was not meant to be a meal, it turned out to be so. We so enjoyed having our friends on our boat again, and they were delighted to meet Elena.
During the time She was on Biesbosch, Elena, who does not sleep very well, slept like a baby. I was so glad to know she was relaxed and really appreciating this kind of life. She never got sea sick, not even when we were uplocking and the boat would move from the violence of the water coming into the lock. The next day, under clear and sunny skies, we took Biesbosch in the direction of Trebes. The first lock just after Carcassonne is a triple lock, quite an experience for Elena. She was delighted with the whole thing. We tied the boat up and had a lovely little lunch. After lunch we went exploring around the sleepy town, where despite the signs for the different specialty shops, it did not look like they had ever been open or that there were any people in the town. This is very typical of rural France, though. Our stop for the evening was Trebes where there is a rental boat base with a real port. I asked the captain for a spot, and although they were full, he moved a boat to the other side to give us a spot where we could have electricity for the night. As usual, Elena and I went into town to see the sights, and although the church was supposed to be open, it was not. I guess they knew I was coming! In the evening we had another nice meal on Biesbosch and another good night's sleep.
The next day we had a very e and easy day of navigation. We tied the boat up in Puicheric and had lunch at the picnic area complete with stray dogs--lovely ones--and lovely weather. In the afternoon it got a bit cloudy, but never cold. We arrived in Homps at 6:00 PM ready for a nice drink. Elena announced that since the next day was our anniversary, she wanted to invite us for dinner. We ate at Les Tonneliers where we had a very good dinner and good bottle of Minervois wine. It was a very good evening. We would be getting up early to go back towards Carcassonne, the same way we came. We were invited to Dany's on the day of our anniversary along with Claudine and Michel. Bill had picked up the car and brought it to Trebes, so we could drive to Dany's in the evening. We all got dressed and arrived at Dany's beautiful house, now converted into Le Jardin de La Cite, a gorgeous B&B with a beautiful view of La Cite from her living room and pool area. She had made so many fabulous things to eat and it all looked so beautiful. The punch she made was the best I have ever had. It had champagne, cinnamon, juices and other spices. We had a very good time with our friends, and Elena got to see Dany's house in full. We came back, Elena got some of her things ready for packing because the next day we would be driving her back to Toulouse to take her flight to Madrid.
We got up early to take advantage of the day so we could see Toulouse with Elena. Her plane would be leaving at 8:00 PM so we had time to go to the market at Victor Hugo, where we ate at one of the upstairs restaurants. Elena wanted to try the Cassoulet, I had a very good piece of meat and Bill had some steak, as well. After lunch, we went to see St. Sernin, the impressive and gorgeous Romanesque church of Toulouse, where earlier in the year I had been given my Pilgrim's Credential. We visited Les Jacobins and its Cloister. Here under the altar they have the urn with St. Thomas of Aquinas' remains. We also walked to the beautiful Toulousian church of Notre Dame de Taur, The Capitole, The Parc Wilson and all of the main downtown area with its many little boutiques and numerous cafes full of people at all times of the day. Elena wanted to be at the airport early, so when we arrived, she wanted to get in to the tax free shops to buy a bottle of wine for her daughter, only to be told that on Easy Jet, passengers going to Spain have no right to buy from those shops. She was able, however to buy her a lovely pair of earrings from a beautiful gallery at the airport.
Although we will be seeing Elena in Madrid before we go back to USA, it was very sad to say good bye again, and we only hope to have Elena with us another time on Biesbosch. Who knows? She might join us in Bruges when we are there, perhaps next year.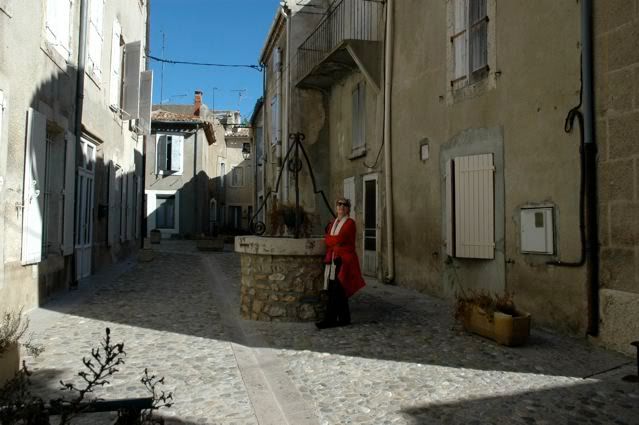 Elena in Fabrezan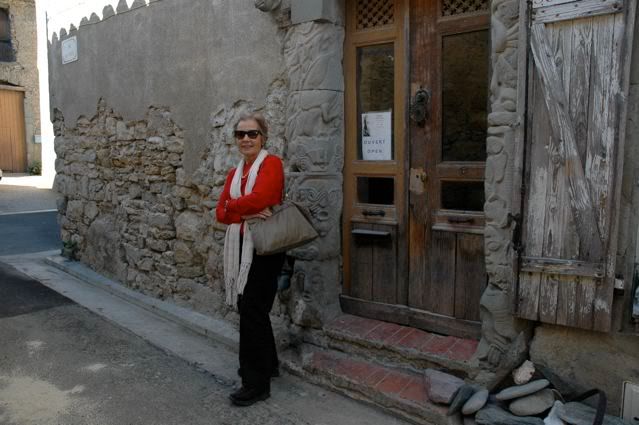 In the snail-shaped village of Aigne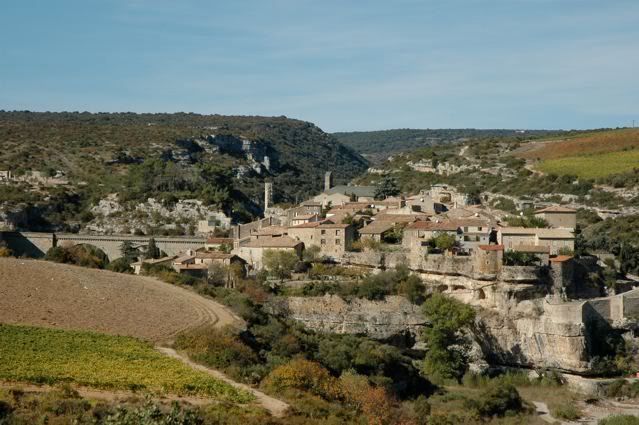 Minerve, Cathar City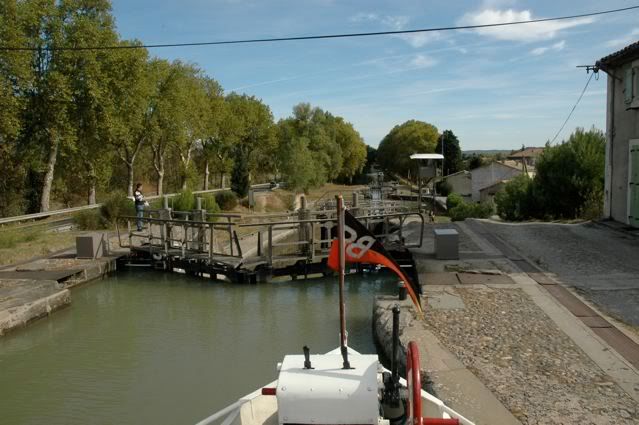 Fresques Lock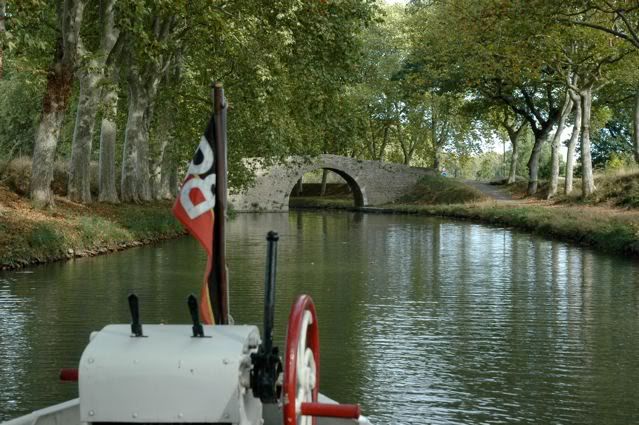 Charming low bride on The Midi Canal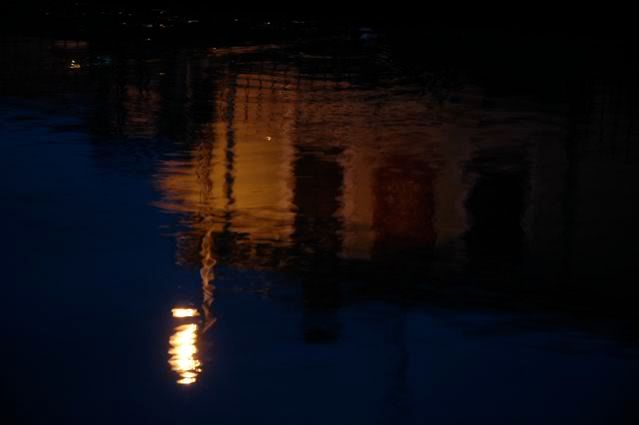 A reflection in Homps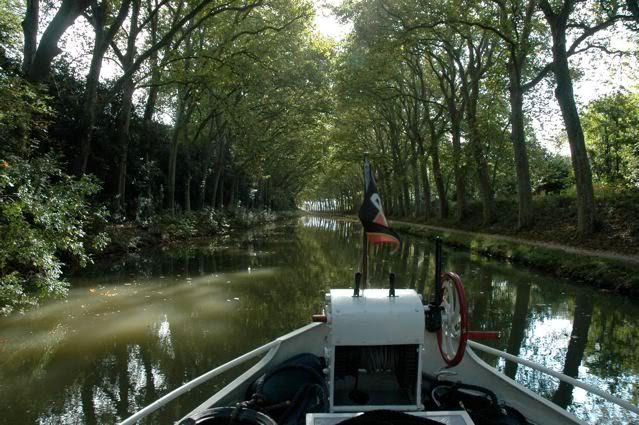 A quiet stretch of the canal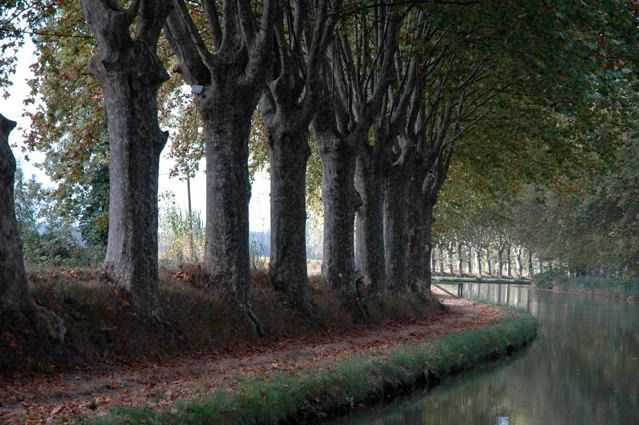 The painting-like quality of the Fall landscape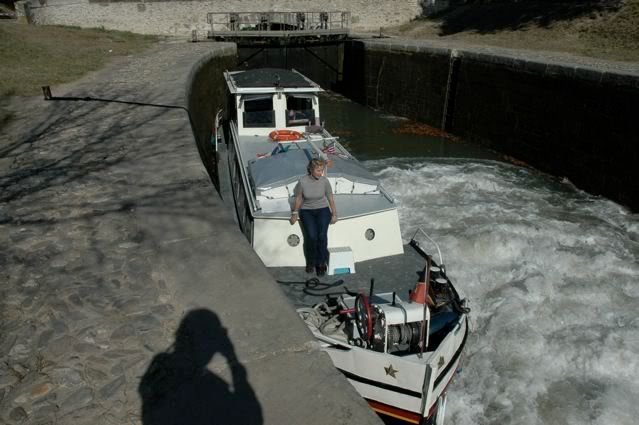 Turbulence in lock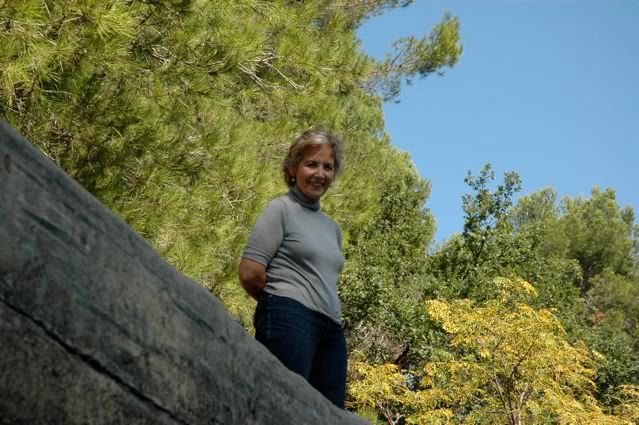 A very fit First Mate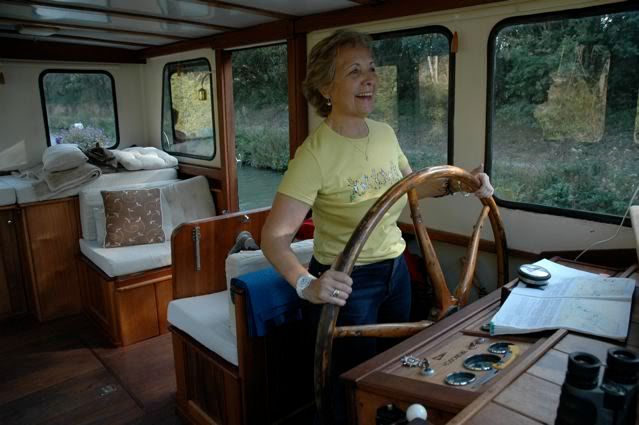 And co-captain as well