On September 2 Ian arrived in Paris, where he stayed for a couple of days with his cousin, Sylvia and husband Laurent. The day of Ian's arrival it was Sylvia's first day at The Salon de la Mode where she was exhibiting and promoting her new winter collection. This was a very interesting thing for Ian to see, and he was delighted to be able to help his cousin with the set up of her displays, etc. Although Sylvia was very busy, they were able to spend some time together, so for Ian it was a great experience. On the 6 of September we picked Ian up at the train station in Bordeaux. It was so exciting to see him there waiting for us. I could not believe he was going to be with us again for a few days. We parked the car by the river and the Hotel de Ville, so he could see the new River walk they have built in the city. They have been building it for a few years, and they only have about a kilometer to finish. It is absolutely gorgeous. Across from the Hotel de Ville they built a Mirroir d' eau or Water Mirror, a fountain that spews jets of water steam and trickles of water to form a large square flat water mirror on its black slate stones. People can take their shoes off and play in it, so you see children and adults alike enjoying this unusual fountain. We found a nice restaurant in front of the river, so we sat down for a while and had a very nice lunch. Before we left town, we went to see the submarine pens from WW II, which are intact. Ian was eager to see the boat, so we got back in the car and drove to Meilhan sur Garonne where Biesbosch was.
Ian wanted to relax and not do a lot of navigating, at least not very long days, so we spent two days in Meilhan, took him to see the towns around it, had some lovely meals on board, and on the 8 at around 11:00, we left Meilhan to go to Castets en Dorthe, the end of The Canal Lateral a la Garonne, about 1/1/2 hours away. It was a gorgeous, sunny morning and this last part of the canal, like the rest is green and lush. At the last lock we had to wait for a while. There was a crew of three men working on the gates. After going through the lock, we moored along the canal and had lunch on deck. We arrived at Castets around 1: 30 PM and were able to tie up along the long pontoon away from the port; a great spot. Later on, a large Peniche called Bosco, tied behind us. As it turned out, they had a Peniche Driving School, and the students were all girls. According to Ian, from the looks of them--rather rough around the edges--they must have been young delinquents being taught a skill. In he late afternoon they all jumped into the water to play and sun themselves on surfboards. They all had their eyes set on Ian, without a doubt. We walked to the lock that takes you to the Garonne, a rather intimidating lock whose lock house has three floors, unlike the rest. The river has flooded many times and the marks of the various flood levels are set in the house walls. We then walked up the hill to the Chateau de Castets and the small village of about 400 people. In the evening we set up the barbecue and had a great cookout.
The next day, Ian's birthday, we had a lazy morning, a nice lunch on board and after 2:30 PM navigated Back to Meilhan. Ian wanted to have a raclette for dinner, so after tying the boat up, we took the car to the supermarket and bought the cheeses, meats, and all ingredients necessary. As it turned out, it was a chili and rainy night, the perfect weather for a raclette. For Ian it was a perfect day, exactly what he wanted. To go to Vileton We stayed at Meilhan until the morning of the 12, when we left around 10: 00 AM. Although it was foggy in the first hour or so of navigation, the weather turned into sunny and balmy. For lunch, we tied up along the canal and had a soup and sandwich which Ian wanted and continued on to Villeton. There are a few houses behind the port, but in front of the pontoon, there is a Pizzeria and a small local folklore museum. It is a quiet mooring, so we decided to stay for a few days. From there we took trips by car to Mas d'Agenais so Ian could see The Rembrandt at The Collegiale, to Agen to eat at the train station, to Damazan and other villages in the area. We had left our car in Meilhan so Bill took the bicycle along he canal to pick up the car and bring it to Villeton. On the 14 in the morning, we took Ian back to Bordeaux from where he returned to Paris and the 16 he flew back to LA. This time, Sylvia was not as busy, so he was able to spend time with his cousin. She has always been very special to Ian and he has always enjoyed her company as well as Laurent's, Sylvia's husband.
After such a wonderful time with him, it was very hard to say goodbye to our boy. And for a few days, I kept setting the table for 3, forgetting he was not around. He always is, though in our hearts.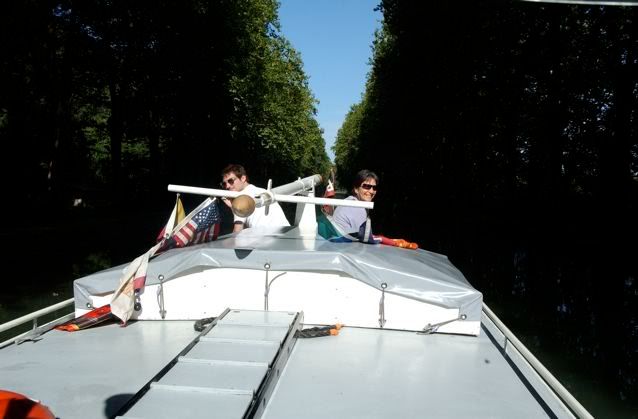 A beautiful day for navigation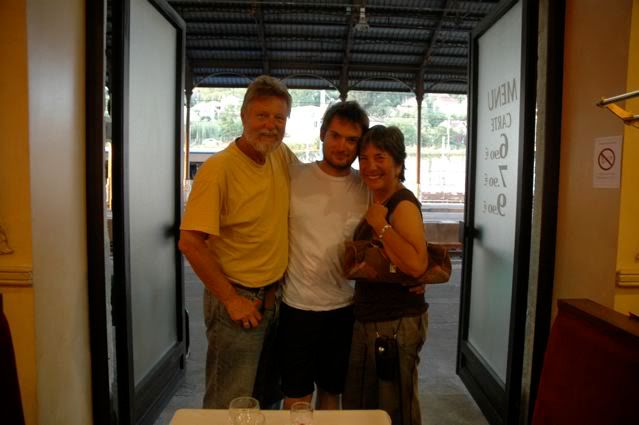 Brasserie de la Gare, Agen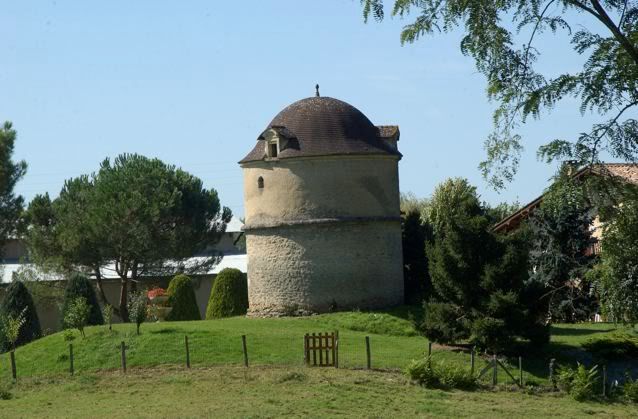 A pigeon house in Gascony




Our mooring at Castets




Flood levels markings




Lock leading to Garonne River




Chateau de Castets




Cookout at Castets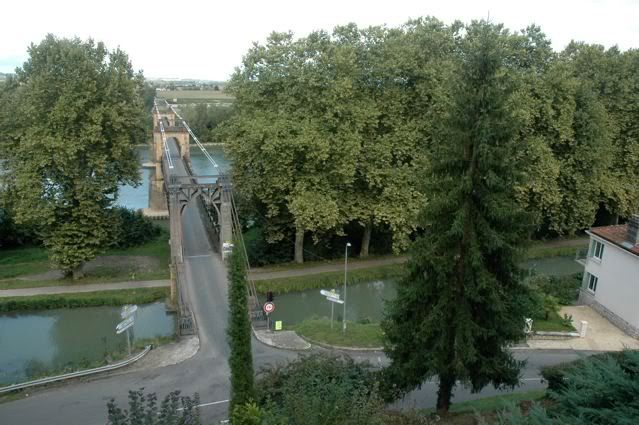 View of canal, Garonne and bridge from top of Mas d'Agenais




Ian admiring a Rembrandt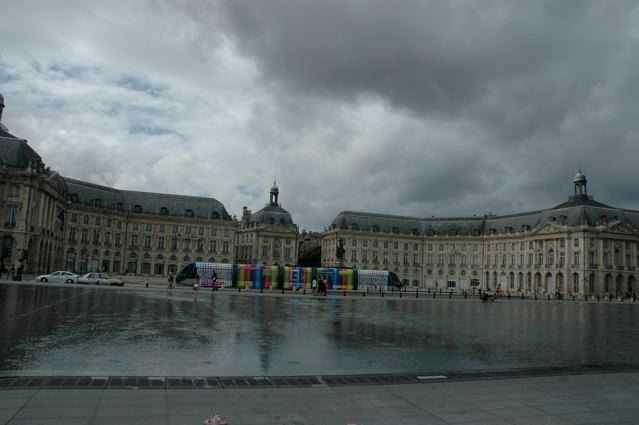 The Mirroir d' eau, Bordeaux




The Garonne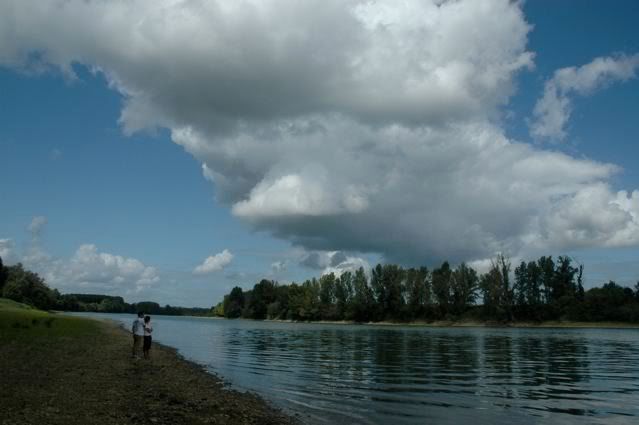 The wild and beautiful Garonne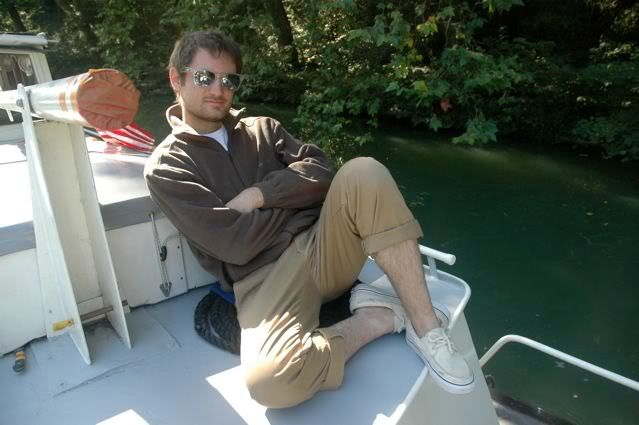 Our handsome son




A typical Gascony landscape