After Bob and Doris left, we spent a couple more weeks in Malause doing some work on Biesbosch, a new front hatch that Mark, our friend fabricated for us, a bit of painting, and of course enjoying the company of Mark and Celia, Kit and Steve and Laurence and Andre whom I met when I came back from Spain. On August 17 we celebrated Celia's birthday with a big lunch in the picnic area and a game of boules in the late afternoon. We stayed in Malause until the 30 of August, but did a lot of traveling by car, and explored the Lot et Garonne and The Gers, both very beautiful departments with gorgeous towns, great nearby hill food and history.
The first night we tied all by ourselves at a bend in the canal where we could see on the nearby hill a medieval town with a triangular church tower all pink from the sunset light. As soon as we tied up we were visited by a family of six beautiful swans who swam around our boat for a long time, even after they had been fed a whole baguette. Since it was early still, we left the boat and walked down a little road to see where it would lead. After a few bends we came into a tiny village called St. Pierre de Malaure. The houses were small and low and all around were sunflower fields and plum trees full of purple fruit ready to be picked. The next morning we continued on to Agen, a real city that has a real port by the train station, whose brasserie is famed for its good cuisine. We got there, tied up in front of a big peniche and walked across the pedestrian bridge over to the station. Lunch was fabulous and the ambiance great. After lunch we arrived in the village of Serignac where we tied up to the pontoon along with three other boats. The village of Serignac has a very distinct church tower that swirls up like an ice cream cone. It is quite beautiful. The town is a small bastide with half timber houses and narrow streets; very lovely. In the afternoon we stooped at the local boules court to watch a few people playing, and Bill was invited to join in. He was playing with some very accomplished players and he and his partner won the game. It was such a fantastic thing for Bill to do! The next day we walked from the canal to the River Garonne, a few km away among the plum trees, apple orchards and kiwi plants. The aromas of the warm ripening fruit were unbelievable. The river is very wild and its banks in that area, not at all populated, so with its lush vegetation and clear water, you felt as if you were in the jungle. We walked quite a distance on its graveled banks from where we could see hundreds of fish feeding close to the banks, jumping and splashing about. It was quite a sight!
Our next stop was in the town of Buzet, whose vineyards produce some very good wines. We tied up after the port in front of a restaurant where we thought we might have electricity, but they had disconnected it. However, as it is, we have enough battery power to run the 2 refrigerators, lights, and all other electrical appliances, except oven for about 32 hours. We left the boat, walked to see the town uphill to La Cave de Buzet, a cellar owned by the vintners of the region where they have wine tasting. After tasting a few good wines, we bought a few bottles and walked back to our boat with them. It was a beautiful evening, so we went on deck for our aperitif, had a very nice dinner and watched a great French film.
From Buzet we did a three hour run, an easy run past the port at Damazan, where we could not tie up because their pontoons are too small and mainly for plastic boats. This stretch of the canal is particularly beautiful with three and sometimes four rows of plain trees along its banks. We decided to stop for lunch at a restaurant called Le Bar du Canal because it had a pontoon right in front of its terrace for boats to stop and tie to. The lunch turned out to be a lovely home cooked meal and a fantastic dessert. We were going to continue on, but since the pontoon had all the amenities, we decided to stay and take a long bike ride along the Voie Verte, a bike path that goes from Toulouse to Bordeaux. It was a gorgeous afternoon, so off we went on a 24 Km run. On our way back, we stopped at the lovely medieval town of Mas d'Agenais which has a great view over both the canal and the River Garonne and its suspension bridge. The main square has a covered market from the XIII C. and the Collegiale de St. Vincent, one of the most beautiful of Rembrandt's small paintings of The Cruxifition, one of a series of seven. It was willed to the town by a rich merchant who had lived there.
The next day, we did a 6 hour run with an hour lunch break. There had been a rain storm in the middle of the night cooling things off a bit. We arrived at the town of Meilhan and saw our friends Robin and Millie from Taboe, whom we had not seen since May of this year. They signaled to us to tie up to their boat and told s that the boat behind them would be leaving the next day and we could then have that spot. The port is very well equipped, and it is one of the few with WIFI, which is a real plus. The people who run it is an English couple who used to run a small port in The Midi. They live in their narrow boat with their dog, and have a small concession at the port. Our friends Jane and Hugh from Sea Wolf were also there, and it was great seeing them again, as well. The next day, Bill took the bicycle up to the town of La Reole, where he got a train to pick up the car in Malause and bring it back. Ian was to arrive in Bordeaux in a few days, and we were to meet him there at the train station. While in Meilhan, we did some more traveling in the area by car. We spent a day visiting the vineyards in Bordeaux and saw a few gorgeous Chateaux, but none of the well known ones, such as Chateau Lafite Rothschild and Chateau Mouton were closed for tasting. The region is very beautiful and one can see chateau after chateau for miles on end. At the town of Lamarque, on the West side of the Gironde, we took a ferry to Blaye. It is quite an experience crossing the tidal muddy and dangerous estuary. Blaye has a Vauban citadelle, beautifully preserved with an unbelievable view of the hills and valley below.
Bill broke a tooth, had to go to Carcassonne to see the dentist, so we stayed with our friends Michel and Claudine, the greatest hosts anyone can have. It was the week of Spanish Days in Carcassonne, a yearly Spanish festival of music, spectacles and food. The weather was glorious, as was the whole ambiance in town. On the way back to the boat, we visited the Medieval town of Mirepoix, high on the hills of the Minervois and known for its beautifully preserved half timbered houses with carved wooden beams. It is a treasure of a town.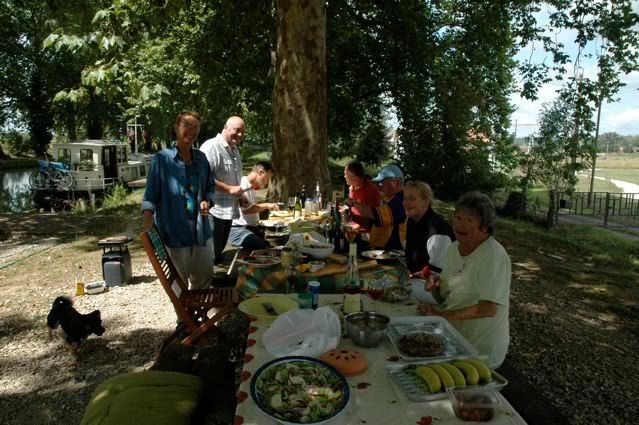 Celia's birthday in Malause




A beautiful mooring spot on the canal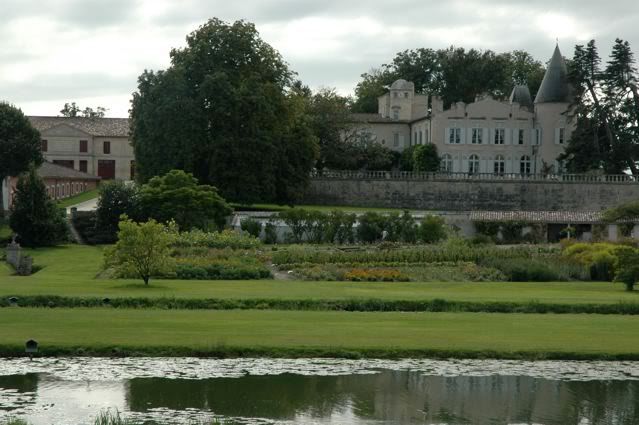 The Town Hall and Square in Lamarque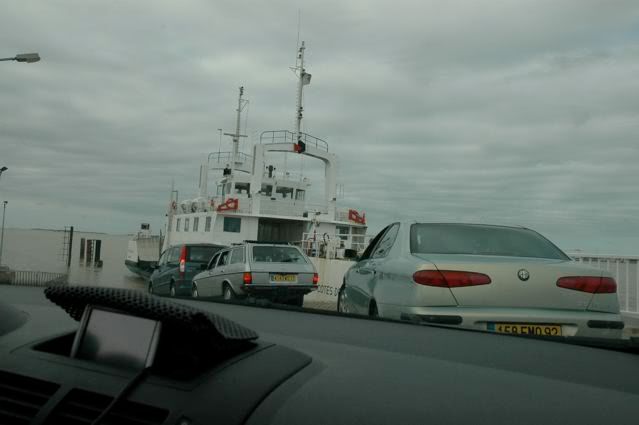 A Beautiful Chateau, Bordeaux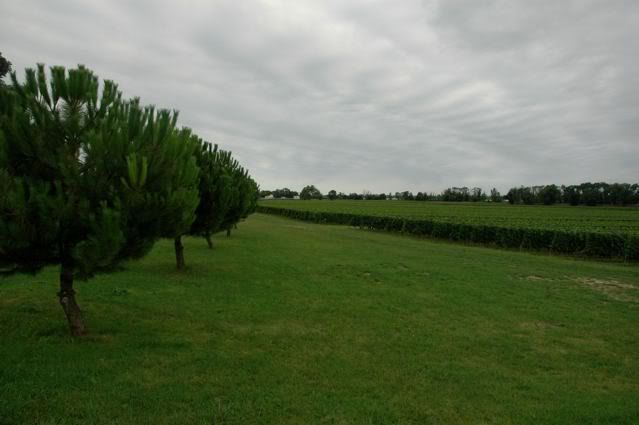 Going onto ferry across La Gironde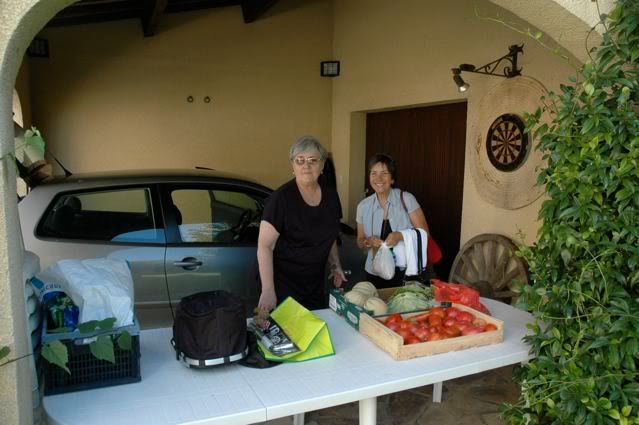 Premieres cotes de Blaye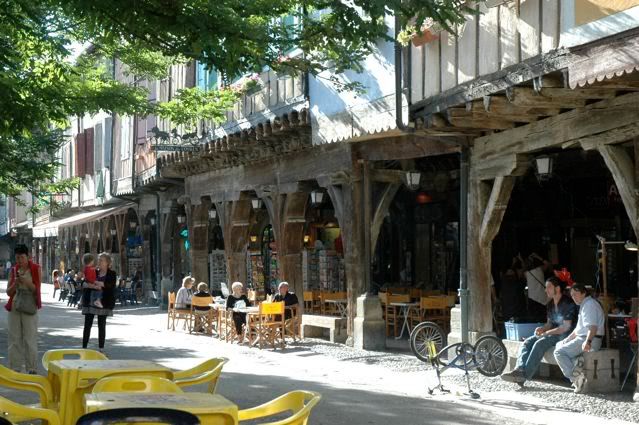 With Claudine after market in Carcassonne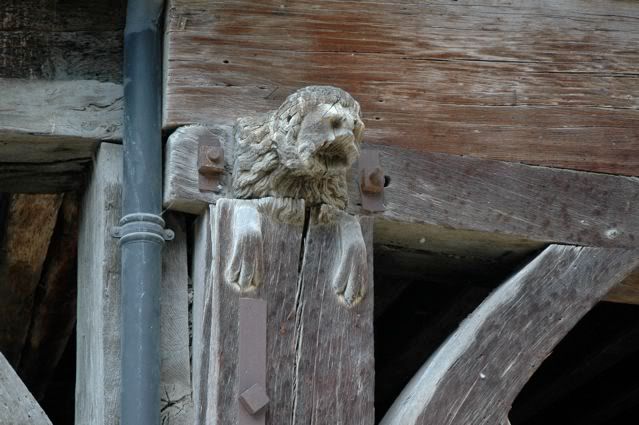 Beautiful Mirepoix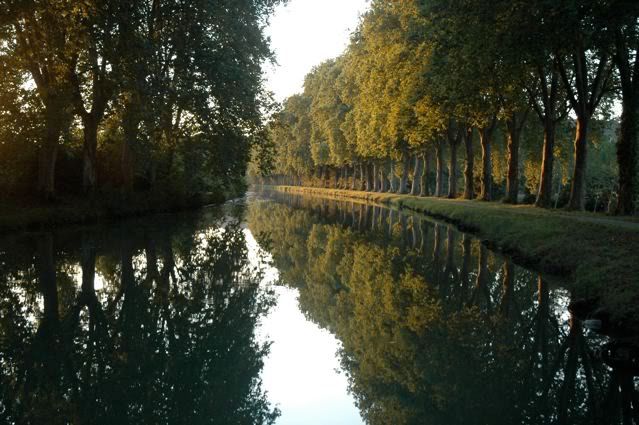 Ancient carved beam, Mirepiox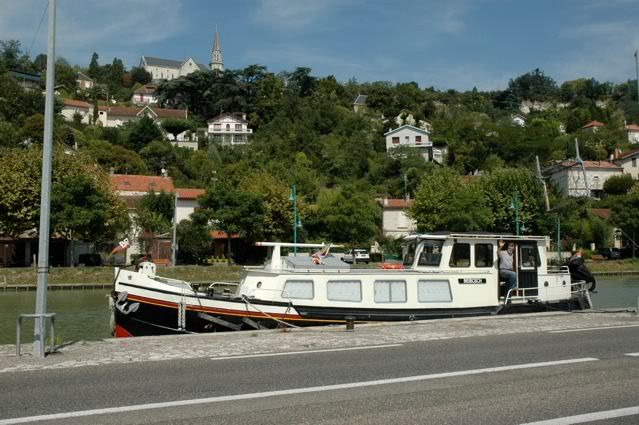 Biesbosch, Agen Port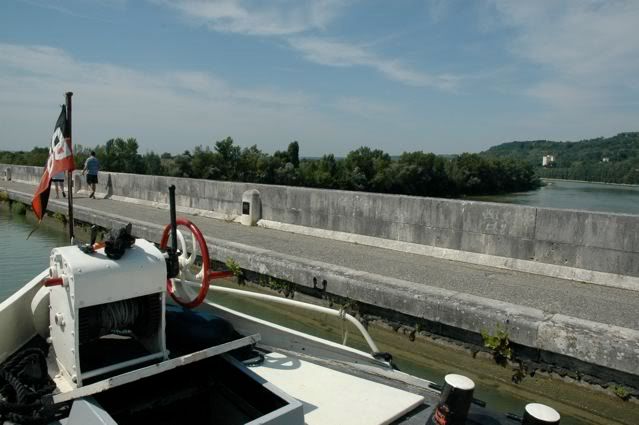 Going over the Garonne on the Pont Canal of Agen