A few days after I arrived from Spain, our friends Bob and Doris from California took a train from Paris to Bordeaux where they were met by us. They had taken an overnight train from Rome, the tail end of their Italian trip after having been in Venice, Cinque Terre and Tuscany as a Silver Wedding Anniversary trip. They had telephoned to say their train would be delayed by a couple of hours, so Bill and I decided to go to Ikea in the outskirts of Bordeaux to do some shopping. Their train arrived at the Gare St. Jean around 2:30 PM and as passengers were getting off the TGV, I spotted Bob and Doris, looking tired, but very happy and relieved to see that we were there. We offered to take them around Bordeaux for some sight seeing, but they wanted to get back to Biesbosch, shower and get some rest. Our boat was in Malause, about two hours away, so during our travel time they told us about their wonderful trip to Italy and their many interesting experiences. We were delighted to have them with us and wanted them to have a good experience on the boat.
Once we were on Biesbosch, Bob and Doris decided to leave their large suitcase in the trunk of our car and only take the necessary items for the next few days. That evening they met our friends Mark and Celia, and we sat at the picnic tables and shared a lovely evening of good wine and food. While we were in Malause, Bob and Doris did some walking along the canal which is shady and lined with plain trees for as long as the eye can see. The sunflower fields were a gorgeous contrast to the green pastures and cornfields around. On August 6, the day of their anniversary, I prepared a paella for dinner, which turned out delicious. We ate it on Biesbosch on a rather hot evening. We set a nice tables, candles and all, and Doris put on a lovely sun dress for the occasion. We enjoyed a most fabulous evening with our dear friends.
During the time we were together we decided to share Rick Stein's French Odyssey series with Bob and Doris, since it is all filmed in this canal, many of the places that they would recognize and enjoy. We would watch one or two episodes every night, lying comfortably on our bed, salivating over the recipes and looking forward to the next day's episode.
From Malause we went to Castelsarrassin. It was a beautiful day for navigation and a totally new experience for our friends. They seemed to enjoy the locks, and they both took turns at the helm after a while. In Castelsarrasin we moored just under a pedestrian bridge in front of the park with the War Monument, a lovely quiet and cool spot. Bill and Bob took the bicycles to the supermarket to buy sausages and things for an evening barbeque. While they were gone, Doris and I lay on the grass in front of the boat, did some reading and even took a short nap. In the evening, where we were setting up the barbeque, we noticed a young couple who were fishing very close to our boat and who seemed to be enjoying their time together so much. As the sun set, they started to catch one fish after the other, all very large. The last one was 22 lb.. The fish were carp which they do not eat. They weighed them, took pictures of them and then, they were placed back in the water with such care. It was great to watch them do it. I took some pictures with my camera, cut them a disk, and the next day they brought us a flat of the most luscious tomatoes from the young man's father's garden. We made a great tomato sauce for a pasta the next day.
As we were getting ready to leave the port to go to Moissac, Bill emerged from the engine room with bad news. There was water in the engine, he thought it was grave, so we decided to leave him alone to sort out the problem. It was market day in Moissac, so we called a taxi who took us there and told us to call him when we were ready to leave. The market in Moissac is fabulous. They have clothes, fabric, shoes, and of course, the most wonderful produce, meats and cheeses all produced locally. We had a great time there and Doris was able to buy a few gifts for her friends back home. We kept in contact with Bill by phone, and were told he had sorted out the problem. It was not as grave as he thought and we could leave anytime. Since it was lunch time, we sat in a small restaurant by the Monastery and had a light lunch, called the taxi and in 20 minutes were back on biesbosch ready to go. The trip to Moissac was beautiful, the weather was cooler than the prior days, and a fabulous day of navigation was had by all. After the Pont Canal we wanted to go down the lock to the River Tarn, tie up at the wall by the river with 3 big peniches we had seen from the distance. As I called to ask the lock keeper to ready the lock, we were told they were closed and would have to wait until the next day at 10:00 am. The port in Moissac was full, but we were told we could tie up along the key at the bend entering the lock. It was no easy task, without bollards to tie to. Fortunately, there was a sailboat who lent us some stakes and soon enough we were tied up and secure. The port in Moissac is parallel to the River Tarn, and along the river banks, the trees are plentiful, there is a walkway and downstream, a beautiful old mill which has been turned into a hotel. We took a walk along the banks and Doris got her feet went in the river water. She was looking for a place where she could swim, but there was no easy way to get in safely. She had broken a couple of Ribs on her trip to Italy and was still in pain.
The next day we were at the lock promptly at 10:00, so we turned upstream to go as far as a Chateau on the hill and another mill about an hour ahead. The river navigation is to me the best. There is such openness and feeling of freedom and our Biesbosch loves the rivers so much. Ahead of us we encountered The St. Louis a beautiful hotel barge which takes people from Bordeaux to The Canal du Midi and which we have encountered numerous times while in this area this year. We turned at the mill and navigated downstream as far as the Base de Loisirs, a very wide part of the river with a small port and where the River Tarn meets the River Garonne. When we returned, we tied our boat to one of the big peniches on the river, got off and went for a walk. Along the banks we encountered a group of men who were playing boules, so we sat on the bench in front to watch them play. Another great thing to experience. The men were curious to know where we were from, we talked for a while and back to the boat. We had an appointment to go up the lock at 3:30 PM. This time the lock keeper was alone, so doing a double lock for several boats all afternoon was a hard task. All the time he was pleasant and managed to smile at everyone. We had a bottle of cider, which we gave him with many thanks from our hearts. He was a real trooper.
Since our car was in Malause we went back there arriving late afternoon, so Bob and Doris could pack and leave everything ready for their departure. They wanted to invite us to dinner, but we decided it would be easier to eat on the boat. I made a fresh tomato sauce with the tomatoes we had gotten from the young man, lovely onions and fresh basil from my own herb garden. It turned out delicious, of course accompanied by some good wine and our dear friends. It could not get much better. The next morning we all got up early, drove to Agen for their train was to leave at 10:00 AM. We had time to have a coffee and croissant at the station before their departure. Needless to say, saying goodbye to them was terribly sad. We had such a wonderful time and shared so many wonderful moments together that we hated to see them go. Their vacation was not over yet. They had three days in Paris which they enjoyed immensely. The best thing for us was to hear them tell us that the highlight of their vacation was their stay on Biesbosch. It was everything they wanted; a time of total rest and relaxation, and we were happy to have been able to offer it to them. We look forward to their next visit.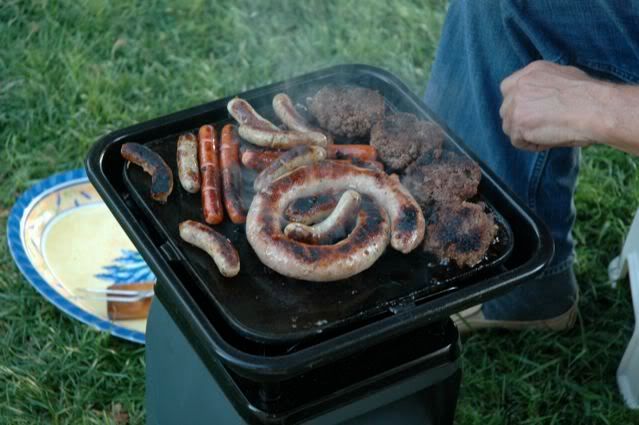 A barbecue in Castelsarrassin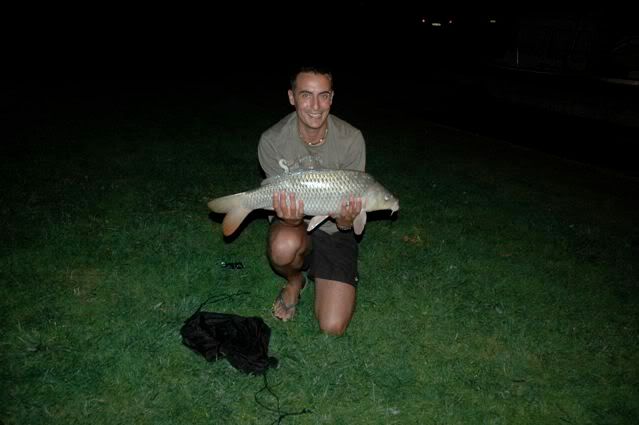 A 14 lb. carp. Castelsarrassin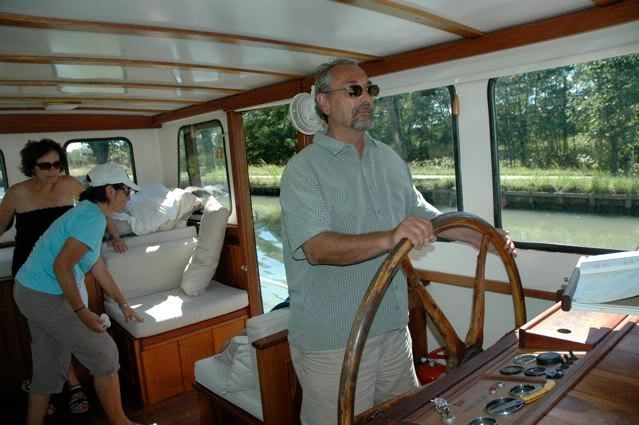 Bob at the Helm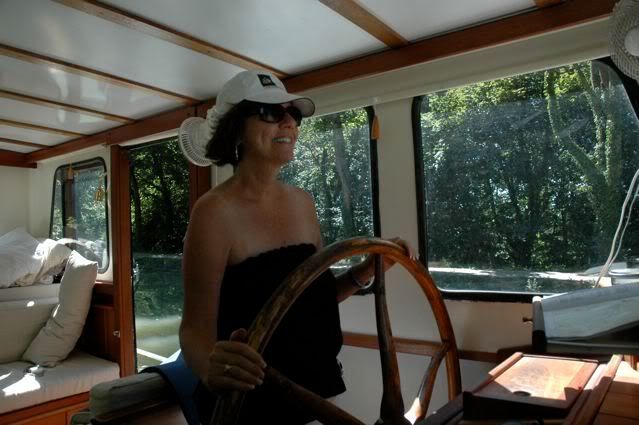 Captain Doris




"Apero" time by the lock in Moissac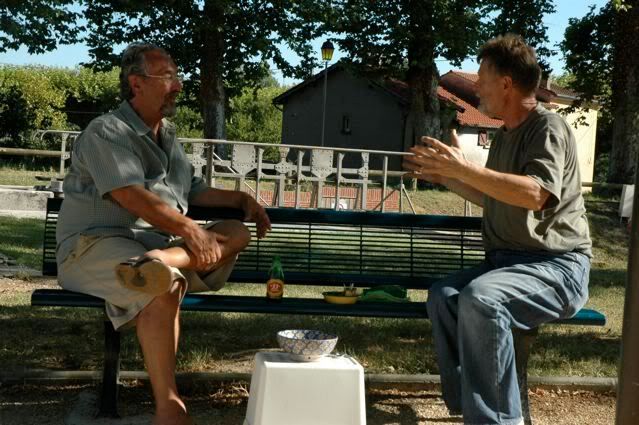 Our guys had a lot to talk about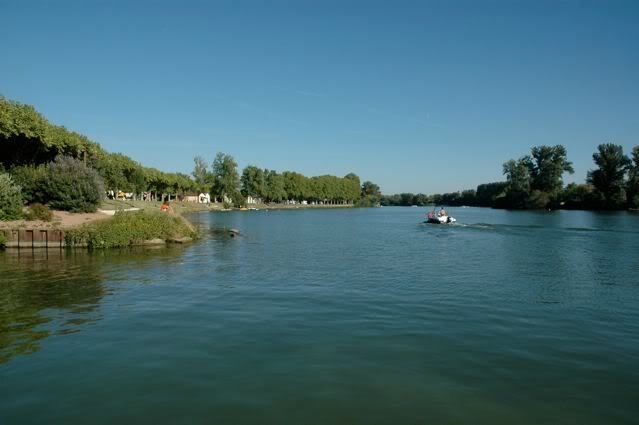 The River Tarn upstream from Moissac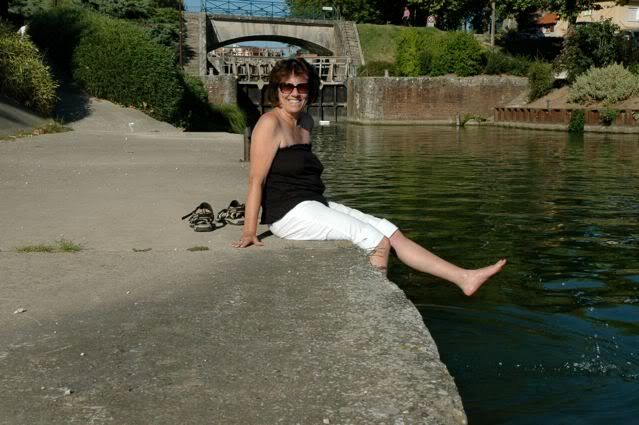 Doris getting her feet wet in The Tarn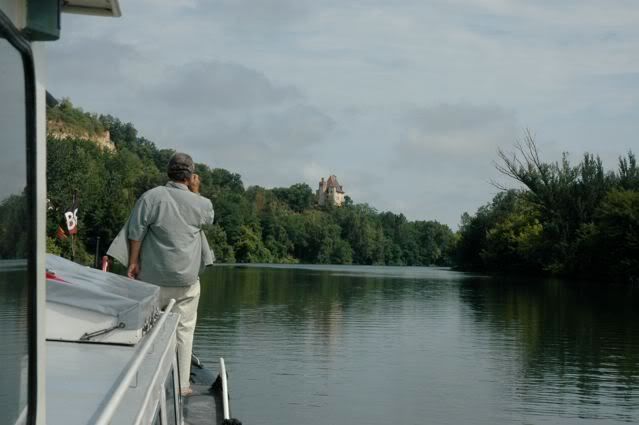 Chateau on The Tarn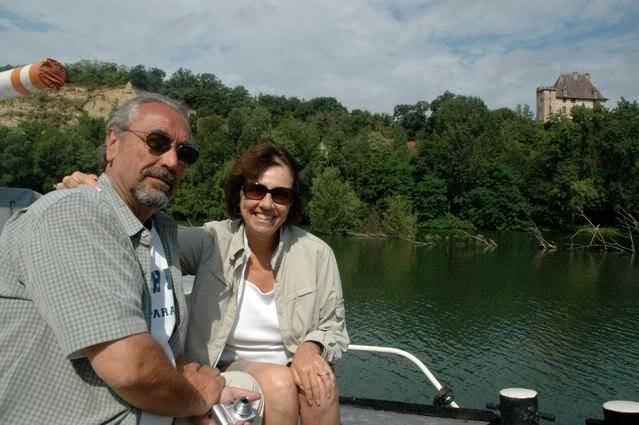 A great couple