Today was one of the hottest days since the start of our walk. We left our lovely place after breakfast as the sun's first rays were painting the fields in hues of purples, oranges and yellows. We were to meet Stella and Justo in Arzua at around 9:00 AM, where we arrived just on time. We went through a beautiful little town called Ribadiso de Baixo, and to get to it we had to cross an ancient stone bridge over the River Baixo. Once we left Ribadiso, we kept on climbing quite a way along the N547. As we arrived in Arzua, Justo and Stella were loading their car with their suitcases. Stella wanted to get some walking sticks for the rest of the way, but she could not find what she wanted. She borrowed Justo's walking stick. (Justo was still recovering from a foot operation.) Once we left the town, we walked for some time inside a dense oak forest, through small stone hamlets and eucalyptus forests. In Boavista we found a cafe and sat down to eat and rest. The sun was incredibly hot and we felt pretty tired. We continued our climb and for some time walked behind the group of young students that were traveling with the priests. There was quite a climb up to El Alto de Sta. Irene. We saw an incredibly inviting creek, so we dipped our bandanas in its icy cold waters, put them around our necks and felt totally renewed. Stella and Libia took their shoes off and took a foot bath in this delicious water. A few kms. later we stopped at a restaurant along the N547 to have a cold drink. I do not remember having been so thirsty. We called Justo to find out where he was, and he was just returning for a day trip to the Rias Bajas. He met us at the bar, bought us a cold beer, so after that, we really had to make an effort to go on walking, but we did. Stella left with justo to meet us in Pedrouzo and Libia and I continued on our way. We started our descent and when we got to Rua, the group of young kids we had been walking with had set up camp behind a little chapel, they had found a hose and were all playing in the water. How we wished we could do the same! From there to Pedrouzo the distance seem so long, although it was only a few kilometers. When we finally arrived in town and spotted our hotel down below, we could not believe our eyes. Stella was sitting outside all showered and pretty and looking as she had just had a day in the park. She told us her room was too hot, reason for her being outside. Our room, on the other hand had a different orientation, therefore no heat problem. It was very nice and it had a fantastic shower. Libia took a nap while I showered and washed my clothes. I went downstairs to meet Stella and Justo and they had cold drinks waiting for us in the salon. Someone had recommended the Restaurante O'Pino, which we had passed by on the way to town. The food and the wines were fantastic. We ate a lot of seafood and Galician specialties and so enjoyed this wonderful meal. Back at the hotel, we set the alarm for 5:00 AM. We wanted to set off early on the day we would be arriving in Santiago.



Ribadiso de Baixo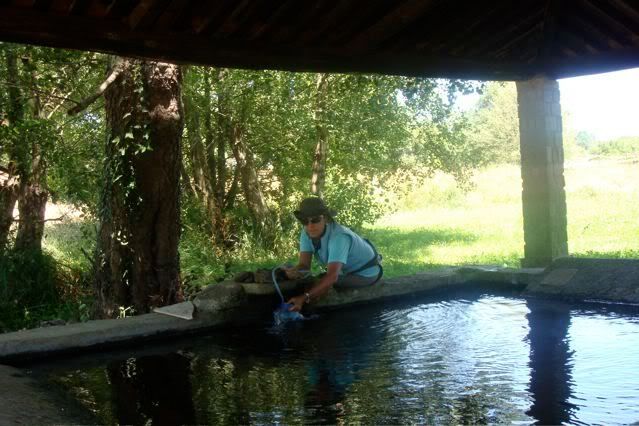 Deliciously fresh water for our bottles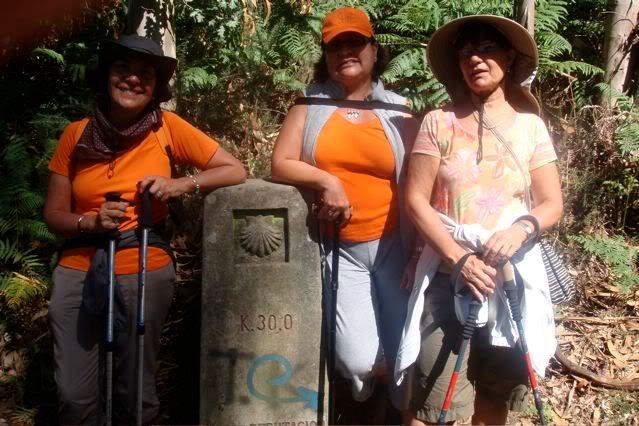 30 Km to go!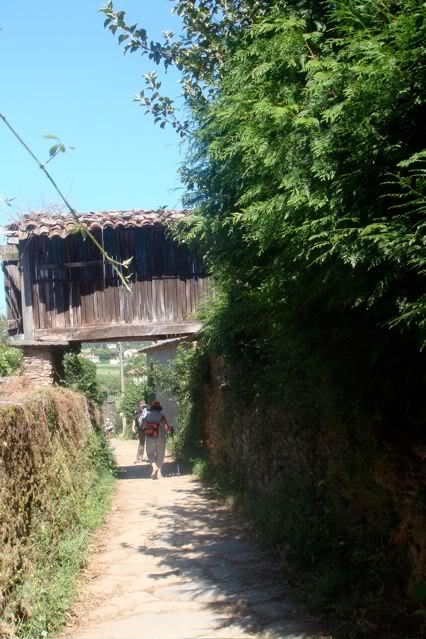 An Horreo bridge!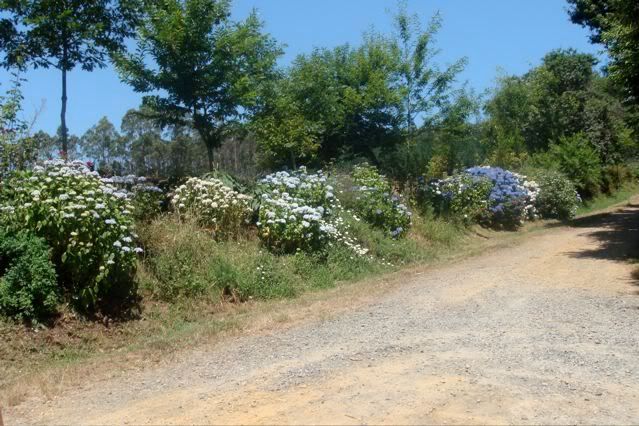 Hydrangea lined path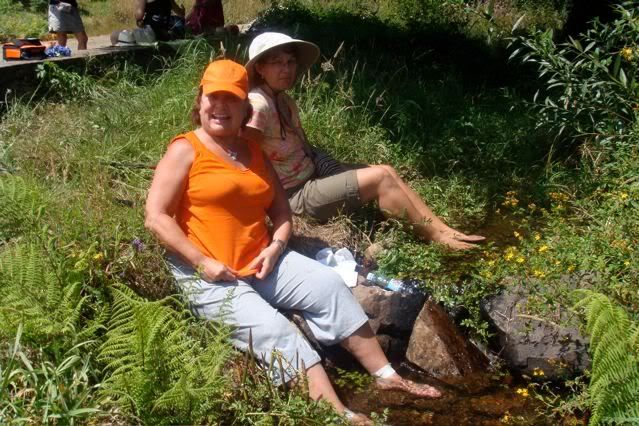 This is heaven!